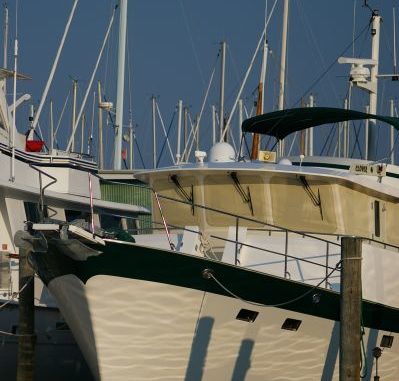 Vessel type/length – Kadey Krogen 58 foot
Engine type/Horsepower – Twin John Deere 6 cylinder Tier II
Starting location – Fort Lauderdale International Boat Show
Final Destination – Company docks in Stuart, FL.
When a boat show is over everything clears out…at the blink of an eye! Floating docks are separated and tents dissappear. A production that can take weeks to assemble and orchestrate often breaks down in a couple of days. Weather waits for no one. Fortunately THIS is a beautiful evening. We are set to bring the Kadey Krogen 58 home to Stuart tonight. While driving to the show on I-95 we listen to the NOAA weather forecast on our portable VHF. Calm evening seas and a cold front is predicted to arrive tomorrow morning.
We are faced with a 100 mile daylight cruise with twenty bridges that require opening with the crowd of all the other boat show boats going home. 100 miles of that in daylight? Never going to happen. So we choose the night ocean run with no bridges. This Krogen can handle it just fine.
After turning in the rental car, we hop a taxi to the marina, check systems and cast off. As we clear the boat show confusion we see many other captains have the same idea, avoid the bridges and run in the ocean all night. Good decision!
We clear the jetties, turn north, set the auto pilot and cruise comfortably along listening to the stereo. We are blessed with the beautiful evening skyline of Fort Lauderdale Beach and gentle swells. Further north The Breakers on Palm Beach are a familiar sight just south of Lake Worth Inlet where we head in to the ICW. St. Lucie Inlet was dredged in 2007 but in bad weather or darkness we consider it an "outlet" and prefer to use commercial inlets.
Nearing the crossroads of the St. Lucie River and Okeechobee Waterway we prepare to make our west turn and hunt out the elusive temporary floating buoys. Please be careful, these buoys are constantly moved to keep you in the deeper water channel. They are not always where you assume them to be but they do mark the deeper water.
Subtle pinks and blue poke up from the east, hinting of the suns arrival. The Harborage Marina is around the bend. Hurry up! We can feel the wind increase as the cold front arrives. Whew! We've tied the last line just in time. Thirty minutes of shut eye before our ride picks us up to do it again…this time in the daylight.