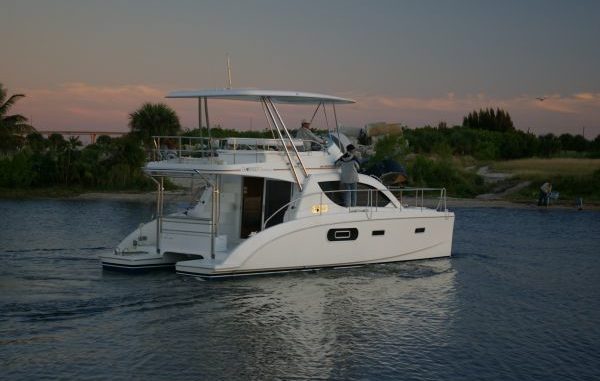 Vessel type/length – Leopard Power Cat, 37 feet
Engine type/horsepower – Twin Yanmar 110 HP
Top speed/cruise – 21 knots – 15 knots
Origination point – South Africa – Charleston, SC
Final destination – Fort Lauderdale – Tortola
This new power catamaran is built by Robertson & Caines in South Africa, on the other side of the pond. We've just received it in Charleston, SC as deck freight from a ship. Zipping around the harbor we bring it in to the Charleston City Marina where St Bart's Service team will perform the final American commissioning. After a bow to stern…and bow to stern double hull look-see throughout this new arrival it was time to do a bit of provisioning for our next leg.
Our shakedown cruise points us south, down the Atlantic coastline, final destination Fort Lauderdale, FL. Unfortunately, the weather would not cooperate for an ocean run. Northeast 25 knot winds can make for an angry offshore seascape, so we cruised along at 15 knots through the twists and turns of the Georgia Intracoastal Waterway. I think we made a few osprey sit up and take notice as we blew past their nests atop the channel markers.
The waters off southern Florida were much kinder and on our last day aboard we snuck outside at Lake Worth Inlet for a peak at the wave heights. We were eager to test out the 3-4 foot swells with a light chop and she responded like a champ.
In another month, one of our buddy captains will take the boat for the final trip to Tortola, BVI. Stay tuned for more news as the delivery progresses.