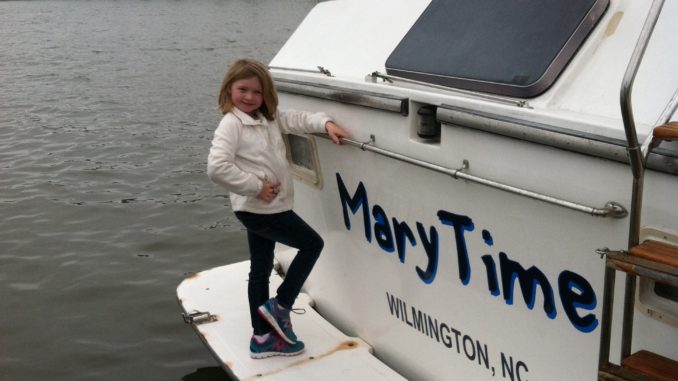 We met this fun couple last year when they came aboard out boat SANDY HOOK to see if the trawler life was for them….fast forward a few months and they were calling Captain Chris for training aboard their new boat. We just received this note of their latest adventure – SOLO!
Hey Chris and Alyse,
Merry Christmas!
Our Thanksgiving cruise was great! Our daughter and granddaughter were able to fly in to join us. We took your recommendation and went South. I am glad we did. This let us cover some familiar territory for our first cruise on our own. We only went from Brunswick to Jekyll Island and back, but we felt a huge sense of accomplishment. Kathy and I are so glad you helped us move the boat from Daytona to Brunswick. It made us realize how little we were prepared to do a trip like this on our own. We feel a lot more confident now after our Thanksgiving trip. We docked twice in Brunswick. We docked in our slip upon arrival and docked again at the fuel island before our departure.
On our return back to Brunswick through the Jekyll Creek, we pushed our luck on the tides. We got a later start than we intended on an ebb tide and were trying to beat the low. Our depth finder was showing 3.6 ft at green marker ( 13, if memory serves) but we never felt bottom. That was a tense few minutes. We got a chance to dock again in Brunswick to top off our fuel tanks and pump out, and then Kathy took us home and docked us at our slip.
As for our trip, we stayed at the Jekyll island Marina. We really enjoyed the staff and they were very accommodating. We had Thanksgiving dinner at the Jekyll Island Club Hotel. It was excellent! We spent the next couple of days exploring the island. This was the first time in a lot of years that we didn't cook ourselves. I could get used to this.
I attached a picture of our granddaughter for which MaryTime was named.
Thank you guys for all of your help and hope to see you sometime in the spring, on the water, or at some event…Keep in touch.
Best Regards,
Joe & Kathy O.