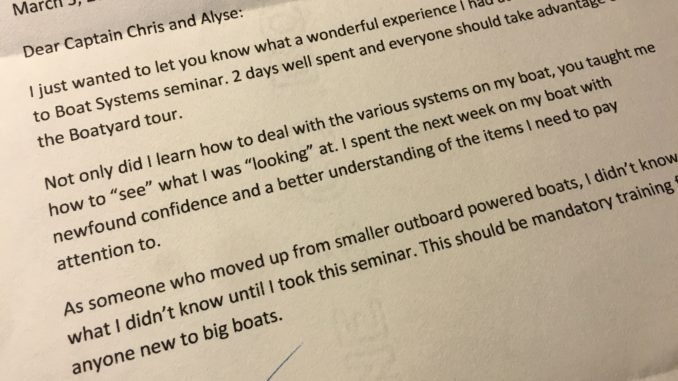 Barney sent us this descriptive Thank-You note after attending one of our Boat Systems Seminars….
Dear Captain Chris & Alyse:
I just wanted to let you know what a wonderful experience I had at the Introduction to Boat Systems seminar. 2 days well spent and everyone should take advantage of the Boatyard tour.
Not only did I learn how to deal with the various systems on my boat, you taught me how to "see" what I was "looking" at. I spent the next week on my boat with newfound confidence and a better understanding of the items I need to pay attention to.
As someone who moved up from smaller outboard powered boats, I didn't know what I didn't know until I took this seminar. This should be mandatory training for anyone new to big boats.
Thank you,
Barney
Thank YOU Barney for letting us know how we helped you build your cruising confidence! Hope to see you out on the waterways or maybe at one of our classes. Check out our calendar! Captain Chris & Alyse