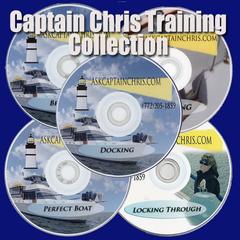 A nice note about our DVDs from new cruisers…
Hello Chris! Thanks for the great content on in your DVD series. Brenda and I are new cruisers just about to acquire our first boat. Your and Alyse's instructional style, calm, controlled, informative gave us a sense of confidence that we can do this too! 
We highly recommend any boater considering their first boat, or who will be dealing with Docking, Bridges, Locks, and Anchoring a larger craft invest in your DVD's.
The DVD's also served to show us that practice and skill building are key to safety and enjoying our time on the water. We are looking forward to inviting you and Alyse aboard our boat when we pick it up for a few days of professional instruction.
Tom & Brenda L.
Get your adventure started! Check out all our Captain Chris DVDs and have fun while learning…Click right here!