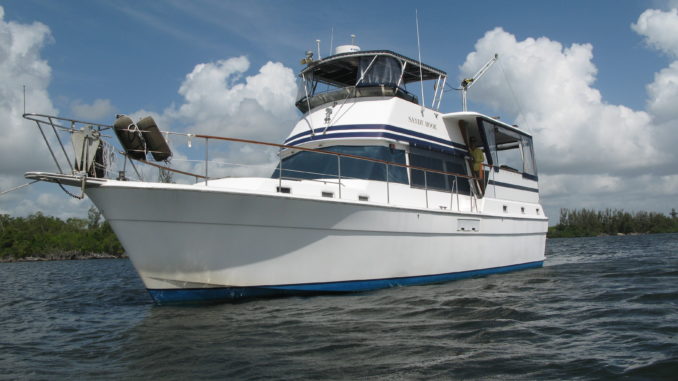 .
Get away from the computer and get out on the water! …Are you still there?…Let's help you get into action mode! Schedule a training trip aboard SANDY HOOK our 44ft trawler in Florida. Book your winter vacation and enjoy the cruising life… forward this E-newsletter to a friend and if they take a trip with us we'll send you a CAPTAIN CHRIS YACHT SERVICES HAT with our thanks.
Captain Chris Yacht Services has just a few dates available before the calendar runs out on 2010. Imagine you and your favorite Mate living aboard while learning all about the cruising lifestyle. Think about a trip to Florida in the late fall when our days are sunny and the evenings bring a cool change. Or maybe just get away from it all and celebrate the first day of winter wearing shorts? CLICK HERE to join us aboard SANDY HOOK – our 44 foot training trawler. COME ON! START LIVING THE DREAM !!
Keepin' it working with Captain Chris
Air Conditioners– Get your toothbrush ready to scrub the sea strainer. In fact, this time of year you might want to scrub 'em weekly to keep the water flowing and the cabin coooool.

Zincs – If you haven't hopped over lately to check out your zincs then you may be surprised to learn they're almost gone. Stray current from a neighbors poorly wired boat may be eating your shaft zincs.

Lines– Take a stroll around your decks and check for any signs of chafing on your dock lines. Look at the most obvious rub points and consider how well the lines might hold in a good blow. You know it doesn't take a Hurricane for 70knot winds to appear. A sudden squall can take you by surprise and pop lines already weakened by wear.

Flowers– Give your sweetie one exotic long stem for no reason and keep everyone guessing!
Tropical Update – Whoo Hoo! No official landfalls as we write this but Earl sure gave us a scare. Remember that September is the biggie so don't let your guard down yet. Have a plan for protecting your boat? Contact us if we can help with your Hurricane preparation plans.
Captains' Calendar
SEE YOU IN BALTIMORE!