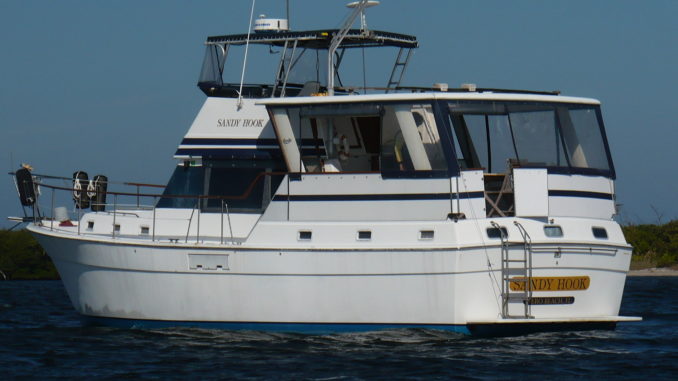 Got Snow? We don't…..
Where in the world are Captains Chris & Alyse? Why Sunny Florida of course! January is completely booked for cruising aboard SANDY HOOK but there are still a few dates available before spring arrives. We hope to see many of you at the end of January. We are presenting Building Cruising Confidence As A Couple at TrawlerFest in Fort Lauderdale January 27-29. Join us and learn about Cruising to the Bahamas and maybe find your dream boat. Leave the snow at home please!
Start living the dream with Captain Chris Yacht Services aboard SANDY HOOK, our 44 foot Trawler in Florida. Spend a few days or a week living and learning aboard. Imagine you and your mate Living the Dream….cruising for an entire week with your own personal professional captains guiding you each step of the way! Here are a few of our latest trips aboard SANDY HOOK.
The Moose is loose on the Intracoastal Waterway…and Okeechobee too. Click here for more fun aboard a Golden Star 42 Motor Yacht.

Foggy and mild is the weather forecast for the next four days aboard SANDY HOOK but could NOAA be wrong?

Read more

.

Getting snowed in doesn't deter our charter crew. Tired of snow too?

We can help!

YES that's our training trawler Sandy Hook in the January 2011 issue of Southern Boating magazine, page 4 lower left corner. We were at the Harborage Yacht Club and Marina in Stuart when we snapped this photo at last year's Stuart Boat Show. Gorgeous sunset on the Okeechobee Waterway!
Captains' Calendar
January 25-26, 2011 TrawlerFest University Building Cruising Confidence as a Couple. SOLD OUT x TWO classes. WHOO HOO! The Fort Lauderdale class is aboard a brand spanking new Beneteau Swift Trawler 52. If you missed the boat…and the second boat too then email or call us for your own private cruise aboard SANDY HOOK. 772-205-1859
January 27-29, 2011 TrawlerFest– Fort Lauderdale – Got Snow? We don't! Come on down and get ready to learn about Bahamas Bound: Destination Abacos! We'll also teach you all about Changing Your Seawater Impeller/Diesel Fuel Filter while you warm your soul in the sunshine state. Register for these and other terrific topics right here.
February 17-20, 2011 Miami Boat Show
February 24, 2011 DISCOVERY has been rescheduled for the fifth time. Keep your fingers crossed!
April 1, 2011 LAST SPACE SHUTTLE Endeavor -Cape Canaveral FL. This is the final Space Shuttle Launch EVER and You can witness this historic event from the deck of Sandy Hook. Let us know if you want to be aboard with us.
You are never too old to learn something new with Captain Chris. We recently completed our own training course – for movie editing! Our niece Caitlin visited from AZ, spending time aboard our boat. She brought us up to speed on making our own how-to videos so you'll start seeing more cruising clips on our web site. Check out our facebook page or YouTube Channel for what's happening in the trawler world.
IT'S EASY TO LIVE THE DREAM WITH CAPTAIN CHRIS YACHT SERVICES!
Think about a trip to Florida and JOIN US aboard SANDY HOOK – our 44 foot training trawler. Charters are available for spring and summer too. We have air conditioning!!! 772-205-1859