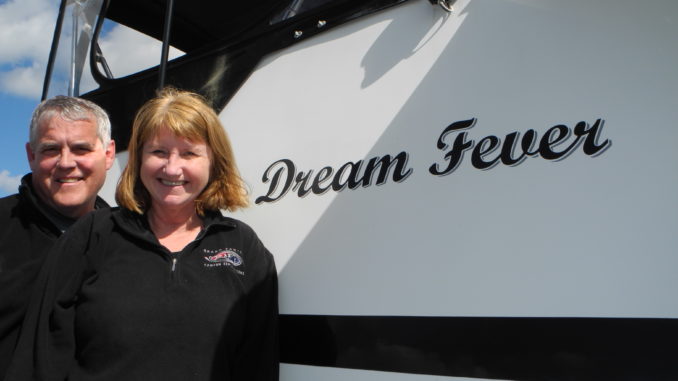 Join us in Annapolis MD for a jam packed seminar to really get your boat motor going!
Sunday March 29, 2015 8am to 4pm
Boating- How To Start Your Adventure!
Do you dream about cruising on your own boat one day? Here's your chance to stop dreaming and start your boating adventure!
This one day seminar will help make your dream a reality. Learn all about how to find the perfect boat for you, finance and insure it, then safely cruise- living the dream of a new boat owner.
With experts guiding you through these and many other topics you will imagine yourself cruising confidently at the helm, relaxing with your guests on the waterways around you. Our boating professionals will introduce you to vessel systems that make boating more fun. And when the day is over you will be prepared to start your boating adventure.
Have you ever asked yourself
• What is the perfect boat for me?
• How do I find the boat to fit my needs and budget?
• Can I afford my own boat and how will I insure it?
• What is a buyers survey all about?
• Where will I keep my boat?
• I've never owned a boat before. How can I learn to operate it safely?
• Where can I use my boat? Help me trip plan a vacation cruise.
Then this $99 one day seminar Boating – How to Start Your Adventure is just for you! The seminar fee per person includes a Perfect Boat Training DVD ($30 value) and lunch so you won't miss a minute of the excitement! Register today!
Seminar Agenda
– Get The Adventure Started! Captains Chris & Alyse Caldwell, AskCaptainChris.com. Welcome and Introduction to the industry professionals presenting the HOW-TOs of boating today. You will learn about cruising associations, harbor hosts, port captains, types of cruisers (weekend, vacation, snowbirds and loopers) and many free online resources.
– Now That You've Found The Perfect Boat – Curtis Stokes, Yacht Broker, Curtis Stokes & Associates. Benefit from the guidance of your buyer's broker to find the perfect boat. This session will walk you through details of the survey and sea trial. What's involved and why does it really matter.
– Navigation Made Easy- Captains Chris & Alyse Caldwell, AskCaptainChris.com. We will review the latest in navigation resources including paper charts, cruising guides, electronic chart plotters and internet websites that can help you plan your cruise for a day, a month or a year. Learn about range makers, tides and currents. Navigation is much more than moving from one waypoint to the next!
– Finance Your Dream Boat – Sterling Associates Learn your finance options including a first ships preferred mortgage. Discover choices for investing in your adventure of a lifetime.
– Confessions of a Galley Slave – Don't be a slave to your galley. Captain Alyse puts on her chef hat and shares what works in the galley of most cruising boats. In addition to some realistic menus with delicious, easy-to-find ingredients, Alyse will offer many simple techniques that will put your mind at ease if you are thinking about extended cruising.
– Yacht insurance: What to look for and how to buy insurance for your boat/ yacht – Pantaenius Yacht Insurance. Scott Stusek, Director of Marketing and Sales at Pantaenius Yacht Insurance, will discuss the different types of yacht insurance policies available, what you should look for in a yacht insurance carrier, how to decipher the fine print of policy wording (and what it means to you in the event of a loss), and navigational limits to watch out for that are prevalent to most carriers.
Maintenance By You The Owner– This session will take the mystery out of maintenance. If fuel filters, impellers, & bilge pumps aren't in your everyday comfort zone then Captain Chris & Jeffrey Poole will help prepare you to start cruising. Learn how MyTaskit helps boat owners connect online with their service pros, to coordinate service and manage tasks. Owners can upload relevant photos and videos, ask questions, request a quote, manage their boat records, and much more. No more back-and-forth phone calls, faxes, or text messages to coordinate service. This technology reduces hassles and helps boat owners proactively care for their boats….saving your $$ for marinas not mechanics!
– Documentation, Registration And The Tax Man Cometh– Curtis Stokes will guide you through USCG documentation, state registration and tax considerations when deciding where to home port your boat. Don't forget the dinghy!
– Cruising The Chesapeake Bay – Waterway Guide– Come along with Ed Tillett as he shares his favorite anchorages, marinas, and popular destinations of the Chesapeake Bay. Starting at the southern end of this historic estuary we will cruise north toward the C&D Canal and the Delaware Bay. This 180-mile cruising ground includes waterfront settings like Deltaville, Annapolis, Baltimore, the Rappahannock and Sassafras Rivers. Serene anchorages, convenient mooring fields, and popular marinas are all part of planning an enjoyable cruise and WaterwayGuide.com will guide you all the way! The web site and app will be covered from stem to stern to show boaters how they can locate navigation alerts, marinas, fuel, anchorages, news, bridges and locks. A hands-on guided tutorial will be provided for attendees by Ed, along with some stories from his years boating, cruising and sailing the Chesapeake Bay and Intracoastal Waterway.
– Open Forum – Panel discussion with all presenters allowing time for questions.
Click here to register for Boating – How to Start Your Adventure …Registration is limited so reserve your place today!
Location:
Sheraton Annapolis -173 Jennifer Road, Annapolis, Maryland
For Hotel Reservations: click here
BONUS! BONUS! BONUS! The Looper Lifestyle event is a bonus for those who have America's Great Loop on their bucket list. After your register for Boating – How to Start Your Adventure then consider attending a Saturday seminar Learning About the Looper Lifestyle. Both events will be held at the Sheraton Annapolis but you must register separately for each date. More on the Looper lifestyle here.