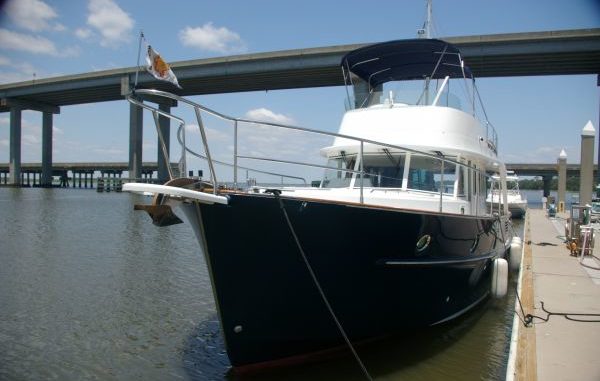 Vessel type – size Beneteau Swift Trawler 42
Engine type – horsepower Twin Yanmar 370 HP
Economical cruising speed 22 knots
Starting location Fort Pierce, FL
Final destination Brunswick, GA
Hurricane season is approaching and this owner needed to move his boat above the Florida Georgia state line by request of his insurance provider. Brunswick Landing Marina in GA is a great location because it is inland and protected from most winds as well as the seas coming in St Simons Sound.
It seems this spring the East winds have been stronger than usual (25 knots and higher) so we decide to run up the ditch in the ICW. Casting off at first light we head north cruising past Vero Beach, Coco Beach, Titusville, Daytona Beach and arrive before dark in St. Augustine, America's FIRST City. We prefer Camachee Cove Marina because there is no tidal current inside the marina basin for easier docking BUT beware of the cross current as you approach the entry channel. Our first day was uneventful and we like it that way.
Day two we decide to stay in the ICW because the surf is up and the rip currents are ferocious. As we crossed the GA State line and pass Kings Bay, GA we see a U.S.Navy submarine in the degausser at the base. (photo) The degausser is used to remove the static electrical charge from the sub before work is done aboard. Directly across from this high tech facility we are treated to the sight of wild horses on Cumberland Island. A note of caution in this area, the Red and Green buoys and Daymarkers change sides of the channel when you leave the river and enter the shallow ICW. Keep in mind the ICW uses the small yellow triangles and squares to note the specific channel. (photo)
As we cross St. Simons Sound this week it is much calmer than two weeks ago when we delivered a boat to Rhode Island. Cruising past Jekyll Island, the Lanier High Rise Bridge soars above the landscape telling us that downtown Brunswick is around the bend.
A 27ft USCG Patrol boat escorts us up the Brunswick River, using our wake for rough water training – they were flying right out of the water! We leave them to their sea trials and turn right into the East River channel and idle to our dock. This boat handles like a dream, I used the twin engines and bow thruster to glide the boat perfectly into the slip. We secure our lines, wash off the salt spray and answer 20 questions from the dock neighbors about why this boat is called a "Swift" Trawler.