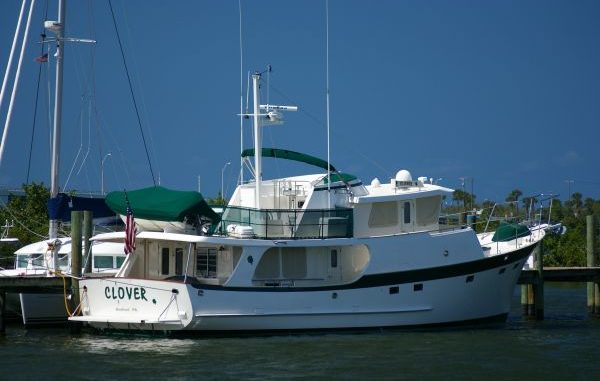 Training new owners while underway in the Atlantic Ocean
Vessel Type – Length Kadey Krogen 58 Trawler
Engine Type – Horsepower Twin John Deere Diesels
Economical speed – 9 knots
Starting Location – Fort Pierce, FL
Final Destination – Galesville, MD (South of Annapolis)
An experienced boater, this owner moved up from a single engine Kadey Krogen 48 Trawler to the much larger 58 Twin Engine model. While this wasn't that big a step for the owner, there were more systems to learn and become accustomed to. They asked us to be additional crew and help them run the boat non-stop to the Chesapeake Bay in the ocean. During this northbound trip we enjoyed terrific weather and comfortable seas. The calm ride allowed the owner to spend time reviewing the many systems and allowed us to share engineering expertise while actually underway.
We all know that trawlers are not speed demons. None-the-less, we are proud of our trip time. We cast off from Fort Pierce at 11 AM Thursday morning and docked at the new home marina in Galesville, MD 100 hours later at 3 PM Monday afternoon.
Consider that this elapsed time included a NASCAR Style Pit Stop in Fernandina FL to change a leaky sea water pump on the starboard engine. The 100 hours also included the time spent going into and out of the harbor and the downtime to change the pump. No stop in Fernandina would be complete without a stroll through historic downtown, a visit to the hardware store and a bite to eat. OK, not really a pit stop- we were ashore for 5 hours. Since we headed for Fernandina we lost the advantage of traveling in the Gulfstream but we skirted the outer edges, often scooting along at 10.5knots. Perfect for trolling speed, we even caught a few fish off the roomy aft deck.
We kept "safety inlets" planned in case the weather deteriorated, then we could duck into the ICW and calmer seas. These safety routes were not needed as we stayed in the ocean all the way past Cape Hatteras and into the Chesapeake Bay. Still, keeping safety first often keeps you out of harm's way. So we reviewed life raft protocol and practiced the proper way to don a survival "gumby" suit. Lots of nervous laughter as we discussed the how-to steps you hope you never have to actually experience.
But, some exciting things did happen during the voyage. We were contacted by the US Navy by VHF and asked to avoid an area near Nassau Sound. They were beginning a "live fire" machine gun practice and we were glad to stay away from their targets. As we spoke to the Navy ship we could hear the pop-pop-pop of their machine guns over the radio. Chilling. A day or so later we heard a Mayday call from a 53 foot boat sinking in Pamlico Sound near a charted bombing range. They were far off course and hit an underwater obstruction, holing the engine room. They were dry on the flying bridge while the boat was sitting on the bottom, back deck totally submerged. The USCG were emphatic that no rescue boat should get inside the charted circle of the range. "We don't need to have TWO boats to rescue." The USCG helicopter was essential in this rescue effort.
Our terrific speed brought us to the mouth of the Chesapeake at 2 AM. Would have been nicer to do during daylight hours. This is one of just a few USCG designated "Traffic Separation Schemes" for incoming and outgoing traffic. Since Norfolk is a NAVY Town and also has heavy commercial shipping traffic the separation scheme makes sense. Check your navigation books for a detailed explanation.
As we entered the mouth of the Chesapeake we heard the Virginia Pilots radioing incoming ships. They were very busy and had 6 ships arriving between 3 AM and 5 AM and who knows how many outbound car carriers. We were in the middle of it all, in the dark moonless night. We radioed a few outbound ships with our intended direction and kept clear of them and their wakes. A ship making 16 knots puts out a very large wake that you can not see well in the dark. WOW- bounce bounce bounce then a false calm until the stern wake hits you and again you have three large waves.
During all the activity of radio communications, RADAR observations, Chart plotter watch and inbound and outbound ships in the dark, we looked to our port and saw a small sailboat under power running abeam of us. Nobody knew they were there! We did not see them on RADAR, the ships did not see them, their lights were barely visible and the sailboat had not radioed anybody announcing their position and intentions. That was scary; I wonder what that captain was thinking?
As we headed up the Bay we saw the sun rise one more time on this voyage. Cruising north we talked about our favorite anchorages along the coast of the Chesapeake. We arrived in the West and Rhode Rivers and finally into Galesville, the boat's homeport. The starboard bridge wing controls made docking a breeze. Next, we started the fun job of rinsing five days of ocean salt and then scrubbing the boat. A wonderful crab cake dinner awaited us that evening before heading to bed. Next morning we rented a car and drove back to Florida. Let's do it again next fall…southbound.