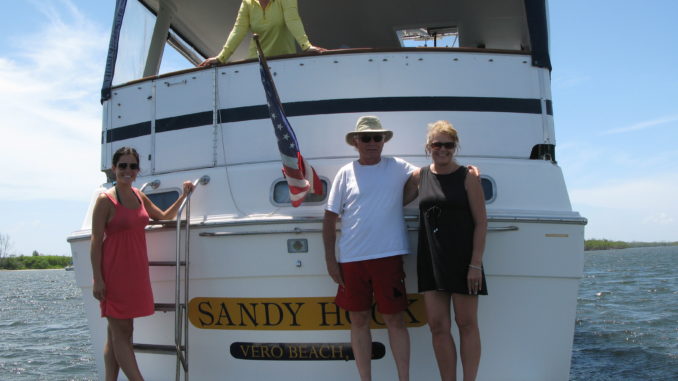 We're swinging on the hook under sunshine that's brighter than ever considering it's the first day of winter! Enjoying a balmy 78 degrees this morning we are trawler training with a couple from Indiana. Want to trade places with them? Let us know when….
Extra! Extra! Read all about it….Have you seen the 2012 January/February issue of PassageMaker magazine? Captain Chris Yacht Services is featured in a six page article Your Boat or Mine. We are so proud to have you read this editorial written by Christine Alhambra, managing editor of this niche publication. We invited Christine to come aboard our boat SANDY HOOK so she could learn first-hand about our trawler training lifestyle. Maybe you'd like to come aboard too?
Santa is getting his sleigh ready and there's no place like home for the holidays. From Atlantic to Pacific, gee the traffic is terrific! Traffic on the waterway, that is…Here's a few hints for what to get the mate who has everything.
We've just returned from TrawlerFest San Diego on the Pacific Coast. Click

here

to read about all the fun we had. Maybe you'll join us in Fort Lauderdale this February?

Back on the Atlantic coast Sandy Hook was raring to go on our next really sweet training charter. This trip was with a Jersey couple hoping to fine tune their search for the perfect cruising boat. We helped them answer questions they didn't know they had….

read more.

Speaking of sweets, our next trip was aboard a Kadey Krogen 44 named Piece of Cake. Chris joined the owners in Brunswick GA as they cruised south to Fort Pierce FL. You can read about their training delivery on

our web site

and live the dream with us as you watch a short video that we took coming out of a tight slip.

You can also follow along on some of our trips by participating on the Discussion board of

Waterway Guide

where we have posted FYI commentary as we came through some tricky spots on the GA/FL ICW.

Join us 10 AM Friday December 30th for the AGLCA Great Loop radio broadcast. We'll discuss the Gulf crossing, or as some of us call it, the big jump. For all cruisers wanting to transit from the FL Panhandle to the Tampa area this will be an excellent time for you to tune in and more important, CALL IN with your questions. (877) 497-1815. Just want to listen? Click

here

for your connection to BlogTalkRadio or You can hear the taped version when you have a minute to think about cruising. Go to

www.GreatLoop.org

and on the left sidebar click on AGLCA Radio. Then click on the player that says "Listen to AGLCA."…….sit back and live the dream with us!

Not a member of America's Great Loop Cruisers' Association yet?? The first ten of you who contact us will receive a FREE membership to AGLCA.. Don't delay.

Join today

.

If you don't know about PassageMaker Magazine, a premier journal that explores every aspect of the cruising lifestyle then here's a timely opportunity for a great deal. Click

here

for a special discount and use this coupon code

Q12111CEC.

You will receive a matching boat show offer of $30 for one year or $57 for a two year subscription.

We can create the best last minute stocking stuffer of all time- a training trip on SANDY HOOK in the New Year. Just say the word and we'll email you a gift certificate for your captain or mate to join you on the adventure of a lifetime. Don't miss the boat!
CAPTAINS' CALENDAR OF EVENTS:
January 31-February 1, 2012 TrawlerFest University Building Cruising Confidence As A Couple. This class is SOLD OUT!! So, we've scheduled a second class February 5-6 but HURRY as it will sell out too.

February 2-4, 2012

TrawlerFest-Fort Lauderdale FL Presenting

Bahamas Bound- Destination ABACOS!

Whether it's your first trip across the Gulf Stream or you are a seasoned cruiser, this is a helpful and fun 90 minute seminar with tips galore. and what could be juicier than

Confessions of a Galley Slave

? Captain Alyse makes your time in the galley another fun adventure. Pick up some ideas we learned from living aboard and cruising for over 15 years on our 44 foot trawler. Then after walking the docks and boarding beautiful new and seasoned trawlers come spend each afternoon learning a few other tricks and tips from Captain Chris as he demonstrates Troubleshoooting Electrical Onboard Systems, Changing Your Diesel Fuel Filter Without Spilling A Drop and The Lost Art Of Communicating Vessel to Vessel With Whistle Signals. Register for these and other terrific topics

right here.

February 5-6, 2012 TrawlerFest University-TAKE TWO!!Call 410 -990-9086 ext. 21 to register TODAY for this in-demand class, Building Cruising Confidence As A Couple held at Bahia Mar Fort Lauderdale FL or contact us to learn how you can schedule your own PRIVATE class aboard our trawler SANDY HOOK in Florida.

February 16-20, 2012 Miami Boat Show and the Miami Yacht and Brokerage show in Miami Beach on Collins Avenue. TRAWLERPORT! at Trawler Island on docks 2,3 & 4. We'll be there on Saturday and Sunday with more how-to demonstrations. No registration required for these demos and they are FREE, a cruiser's favorite four letter F word!
Want to get away to warm, sunny Florida this season? Don't miss out!! We are filling our calendar fast. Make your reservations now aboard SANDY HOOK – our 44 foot training trawler while we still have a few trips available. If your calendar doesn't work for any of our scheduled events just create your own private cruise aboard SANDY HOOK anytime. We have sunshine not SNOW! Email or call us 772-205-1859 and start living the dream. But don't hesitate or you'll miss the boat! Booking now for March, April and May.
Check out our facebook page or YouTube Channel for what's happening in the trawler world.