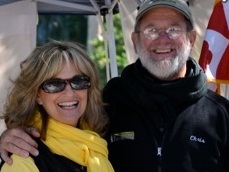 Captains Chris & Alyse were proud to present CRUISING TOGETHER- HOW WE STARTED at the America's Great Loop Cruisers' Association Rendezvous in Norfolk this past May 6-9, 2013.
Here is a short description of our presentation:
CRUISING TOGETHER- HOW WE STARTED From their first weekend adventures to living the dream aboard a 44-foot trawler, your eyes will be opened by Captains Chris and Alyse Caldwell as they share their experiences cruising together- and still like each other! This presentation is a must for future cruisers who are wondering how it can be done.
If you've ever dreamed of cruising or have looping on your bucket list but!!…you missed this wonderful spring gathering, then scroll down and check out some of the photos from the latest looper rendezvous. Captains Alyse and Chris joined many other cruising couples and even those who are still dreaming about one day owning a boat.
Fall registration at Rogersville AL on the Tennessee River is already open. Click here to learn more about this terrific event.
Hope to see you there!!