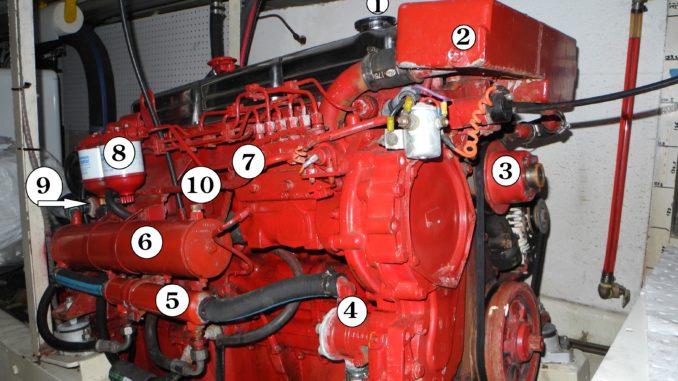 The BONUS Skills Test in our Boating Systems Tips
No cheating! Look over the photo of this engine with the numbers on it. See how many items you can describe and really understand they function without reading the list below.
Let us know how you did….Ask Captain Chris if you need any help understanding how your boat works and how you can Do It Yourself. Come to a class and learn about Boat Systems– even if you don't have a boat yet!
 Ask Captain Chris
772-205-1859 or Chris@CaptainChrisYachtServices.com
Scroll down….down….down…
Answers:
Oil Fill Cap. Found on top of valve cover. This is NOT where you check your oil level each day before starting your engine. Look for the dipstick on your engine.
Antifreeze/Coolant Expansion Tank. There is a radiator cap on top that is not seen in this photo.
Belt Driven Recirculating Antifreeze/Coolant Pump. You can see the pulley for the alternator bottom right of pump.
Direct Drive Raw Water Pump. This is the pump with the rubber vane impeller. Remember seeing the cover removed on the video?
Oil Cooler or Fuel Cooler. This is cooled by raw water coming from #4.
Heat Exchanger. Raw water cools the antifreeze/coolant from #2
Fuel Injector Pump. Note the 6 tubes for this 6 cylinder engine.
Fuel Filter and Water Separator. These are supplied by the engine builder and is your last chance to catch debris before the injector pump.
Reduction Gear/Transmission Cooler. The arrow points to the greyish area. This is just like #5 except it cools transmission fluid.
Pencil Zinc. This protects the honeycombed cooling tubes inside this heat exchanger. These should be inspected monthly or quarterly by unscrewing the brass plug. Look for more as many engines have more than one. Some brands has as many as 8 in one engine.