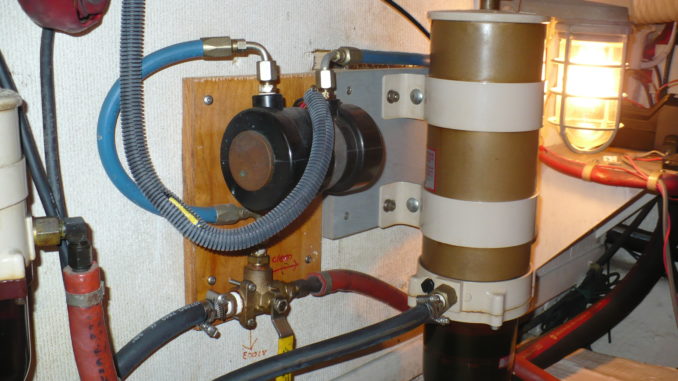 The Seventh of Seven Boating Systems Tips
How can you tell if your diesel fuel filter is dirty? Your engine will not achieve high RPMs. You can also consider a dirty hull, barnacle encrusted or rope fouled propeller, a partially closed fuel valve or a dirty fuel filter…the easiest solution IF you know how.
In this video you can hear the engine struggling- don't forget your ear protection. You also witness the vacuum gauge needle moving in the yellow caution or red danger zones. Hear the engine changing RPMs which is a result of a dirty fuel filter restricting fuel flow.
The photo shows the traditional T-handle which usually comes standard on your fuel filter assembly. In the video we have replaced the T-handle with a vacuum gauge.
Learn how to change your own fuel filter and for 15 dollars and 15 minutes you can be back in business…the business of pleasure boating! We offer 2-day classes in Vero Beach to help you learn this and many more DIY items. The more you know, the more fun you will have as you cruise for a day, a week a lifetime. Just Ask Captain Chris!
And as a bonus you will get to test your skills so stay tuned for your last email…and if you want to learn more just Ask Captain Chris in an email or call 772-205-1859.