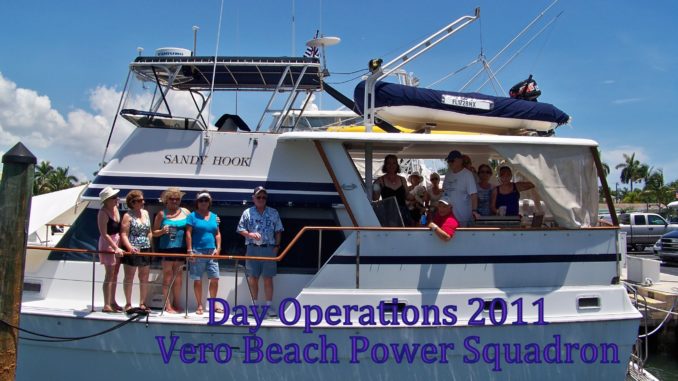 Summer in Florida is great. The waters are calm, the temps are warm but still seems to be lot cooler than our northern friends in the Colonies. Something about the shore breezes……This summer the USPS District 8 Summer Rendezvous was held in Fort Lauderdale's Pier 66 Marina and Marriott Resort and true to form our own Vero Beach Power Squadron had the most persons attending and the largest "after party", "pre party" and "in-between parties" aboard our squadron members boats and even in the pool, too. I guess we are overachievers.
Cooling off between events, we would swim under the roiling water falls of the resort pool to cross from the deep to the shallow end before hopping into the HOT TUB. MMMMmmm. Our hats off to the planning committee!
Pot Luck lunch aboard SANDY HOOK was followed by a Survival Instinct Challenge of the board game "Worst Case Scenario". After hours of thinking out various situations from what to do when stung by a jellyfish to helicopter rescues we called the game as a three-way-tie. Barb E, Barb S. and Dan T were declared the survival experts with all bragging rights afforded.
Remember the stem on the Hibiscus points UP!