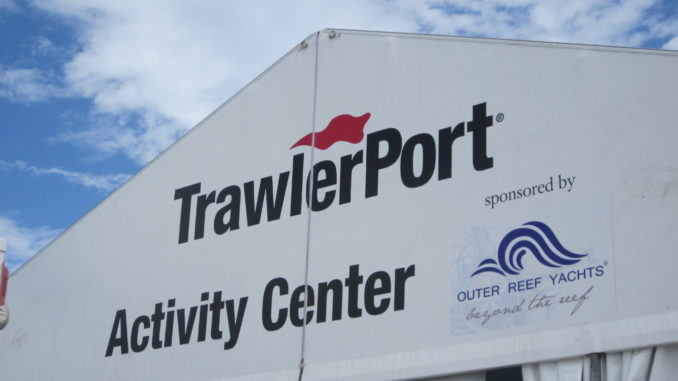 TrawlerPort Fort Lauderdale!
Captain Chris had a blast at TrawlerPort FLIBS- Fort Lauderdale International Boat Show, that is. A trawler show within a boat show, TrawlerPort helps trawler enthusiasts and prospective buyers easily navigate their way through the multitude of choices and learn more about the products and services that cater to the passagemaking lifestyle.
Whew, that's a mouthful. Let's just say we shared some great information about trawlers, met some terrific trawler owners (and wonderful wanna-be-owners) and had a delightful day with the team at PassageMaker Magazine, sponsors of TrawlerFest which is the big brother of TrawlerPort.
Don't know what it's all about? Call us and we'll fill you in on the best time you can have learning about cruising and the trawler lifestyle.
Missed all the fun? Then see you at TrawlerPort Miami, TrawlerPort Annapolis, and TrawlerPort Ft. Lauderdale next year.

Here's a snip of what you missed: scroll down for some fun photos.
Learn How To Change Your Fuel Filter Without Spilling A Drop – Captains Chris & Alyse Caldwell of Captain Chris Yacht Services
Troubleshooting Your Boat's Electrical Systems – Captains Chris & Alyse Caldwell of Captain Chris Yacht Services