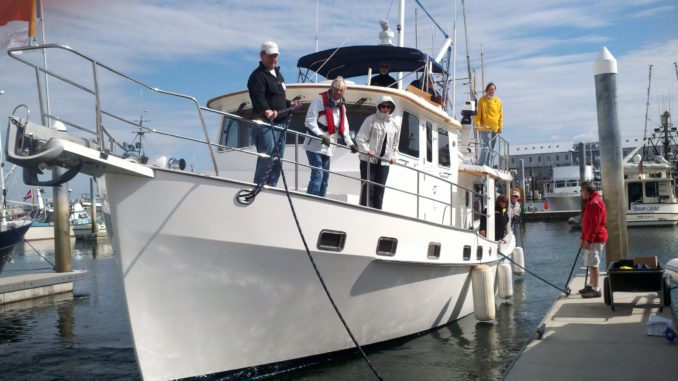 The husband and wife team of Captains Chris and Alyse Caldwell shared the tricks and tips of boat handling in Anacortes WA. This couples-oriented two-day seminar is a wonderful TrawlerFest University Course with an emphasis on team work. Lots of still photos follow this terrific new video from PassageMaker. Look closely and you'll see a few friendly faces!!
For two days in Anacortes WA we worked together with four couples aboard a beautiful Kadey Krogen 44. We each took turns line handling, manuevering, trip planning and even performing basic PM in the engine room.
Our class discovered the benefits of stabilizers in bouncy harbors and choppy high traffic areas. The full walk around decks were terrific when docking in gusty winds and definitely when slip assignments changed quickly. Even the wind and rain served a purpose: This challenging weather showed us why schedules should not be a part of any cruise planning.
We certainly enjoyed our mini cruise in the Pacific North West and had a great time learning together on these magnificent waters. And all our efforts were rewarded with a terrific graduation celebration in the Trawler Fest tent. Congratulations to our four couples on a job well done! To register for TrawlerFest University or TrawlerFest please click here.
Want to have your own adventure? Let us know when you can schedule time aboard YOUR boat with Captains Chris & Alyse. 772-205-1859