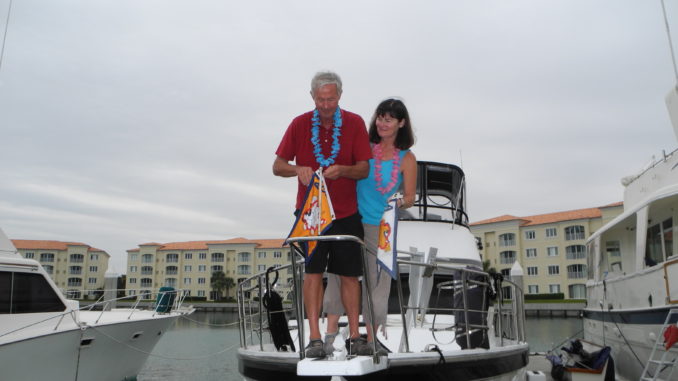 Currently Cruising in Alaska, Cathryn and Bob send their thanks with an update. Don't miss out on the link to their blog. It's chock full of livin' the dream….
In early 2012 we hired Captain Chris Yacht Services for 3 days of training to prepare us to do the Great Loop. Best investment we ever made! Three times while on the Loop in 2012-13 we had engine room troubles while underway that befuddled us, called Chris and Alyse on our cell, and got the answers we needed to safely continue our day and get the problems resolved….but there's MORE!
Back home in Seattle, we bought another boat and are cruising to Alaska this summer. This journey takes us through incredibly remote territory with marinas 100 miles apart, waters more than 1000′ deep, and tidal exchanges in excess of 20 feet.
Departing Prince Rupert, Canada two weeks ago, we saw dashboard readings on our twin engine alternator voltage meters that made no sense to us. We weren't sure if we should turn back to the marina we'd left 45 minutes prior, or carry on. Electrical matters aren't our strong suit.

So we called Captain Chris! He answered, spent half an hour asking questions, explaining things, telling us what to do, then said "I'm at an airport about to go through TSA, so I'll let you go, but this isn't a Trip Stopper and you'll be fine."
And he was right! Two weeks later, all remains well. Captains Chris and Alyse have continued to be "there for us" even though our training with them was 4.5 years ago and we're across the country. This team is THE BEST!!!

P.S. We're in Wrangell, Alaska now, headed north to Tracy Arm and the North and South Sawyer Glaciers where we're nervous about boating among pieces of iceberg and "bergie bits". They don't teach you about that in Florida!!!!
Xoxo
Much love,
Cathryn and Bob on M/V Phoenix
Note from Captain Chris & Alyse: Thanks so much for sharing your story and your photos with us Cathryn. We love your blog too so that others can cruise vicariously until it's THEIR turn on the water. The link to their blog starts when they began their great loop adventure but you'd be CRAZY not to dig around and read about their more recent cruise to Alaska in 2016….Stay safe and keep on cruisin'!