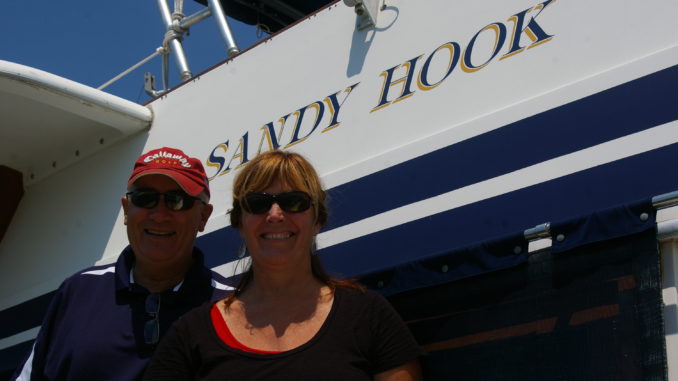 This couple had just purchased their perfect cruising boat up in the Great Lakes but before moving it they came aboard with us to learn the tricks and tips needed to make their trip….
Dear Chris & Alyse,
I wanted to let you know that the high value of your teaching was the charting instruction….
Our trip to Tennessee from Michigan was a great learning experience.Crossing Thunder Bay on Lake Huron found us in some 6′ swells. The boat handled then excellently.
What Alyse taught us about the fetch sent us westward toward the shoreline. We found the swells much smaller and navigable than the few miles off shore produced. I had a profound learning experience in the Straits of Mackinac going from Cheboygan to Mackinac City. Many boats were bouncing greatly off the swells. The worst were those against the current. I read an article that stated that all waves move at 12.2 mph. Learning this, I eased into the hollow between two waves and found that staying at approximately 12 mph left us there in absolute calm. It reminded me of an old spiritual song, "Till the storm passes over" where in one verse says "hold me safe, let me stand, in the hollow of Thine hand, keep me safe till the storm passes o'er."
Going down Lake Michigan was much easier. We found two very good days with very low swells – 1′ or less. Going into Chicago was a real treat. We went about a mile into the Chicago River seeing the tall buildings. We continued the trip through the Illinois River entering at Calumet inlet. We found the Illinois, Mississippi, and Ohio Rivers to be somewhat uninviting as there were virtually no marinas.Also, all the anchor points were far to shallow since the rainfall had not been normal. Wing dams were visible all down the Mississippi. The Cumberland was much more inviting. All the locks were friendly and easy. That was a relief.
We were well treated by all tug boat captains. That was a pleasant surprise. They even helped instruct us on how to pass them well. The actual time on the boat was very valuable. You just have to learn how to operate your boat yourself.
We did have a staff member in our business join us for part of the trip. He is a GPS genius. I have purchased a new radio, chart plotter, HD radar, and GPS. They should be here to install next week. It seemed to me that a better radar would be a great help as it would give better resolution and definition. ….
…You and Alyse were a great help to us and we are happy to be a reference for you to anyone who asks.
Richard Grogan
Thanks so much and stay in touch as you travel the waterways! C&A