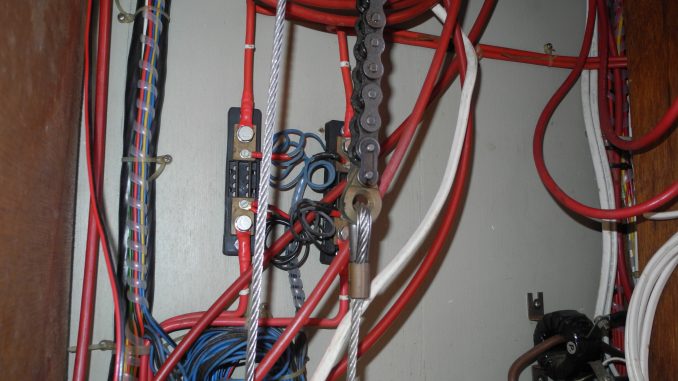 Steering Difficulty on Survey
I was working aboard a boat with new owners when I noticed a little resistance in the steering. I asked about that and they said the surveyor noticed steering difficulty in driving the boat on the way to the boatyard for haulout. Then they did not notice the steering difficulty again until docking the boat back at the marina.
I was curious about why a surveyor noticed that twice on the same day yet did not investigate why. This boat had chain and cable steering meaning it was a mechanical design which is usually easy to prognose.
Look, Feel and Look again
Because it is a mechanical design, this was easy to look at everything to see if it was OK…or not. We inspected the chains, the cables &  pulleys and all appeared fine. We emptied fenders, docklines and spare anchors from the lazarette to search for any problem back there. As I lifted the teak floorboards I noticed sawdust on the acorn nut securing the port and starboard rudders in unison. SAWDUST, on a fiberglass boat? Hmm… I looked under the floorboard framework and saw a deep gouge in the wood frame.
BINGO! I believe I discovered the steering difficulty problem. Placing the floorboard back in place, I stood on it and asked the owner to cycle the steering port to starboard. I could feel the floor lifting up under my weight as the rudder tiller and acorn nut travel beneath me.
Simple Problem. Simple Repair.
We diagnosed that the problem causing the steering difficulty was because the acorn nut was too high. The nut was rubbing on the platform frame as it moved back and forth when turning the steering wheel. The easiest immediate solution was to raise the platform. After quick drive to the hardware store, we purchased a 1×2 inch pressure treated wooden board. This board fit in the lazarette and lifted the standing platform. (Don't forget to follow along reading the captions on the photos below.)
After we tested the design (click to watch the video) and proved it worked, we used a little dab of Liquid Nail to hold the lumber in place. We are good to go! No more steering difficulty. Just like new, the steering was much easier to handle. Steering was now smooth and effortless. We could continue training aboard their new boat.
What To Know Before You Go!
Learn DIY boat service in our 2 day Boat Systems seminar in Vero Beach, FL. We do cover steering systems and recommend you first understand how your system is meant to work. Follow it through to see where the problems begin. Our seminars also review oil & fuel filter changes, AC and DC power systems and a whole lot more. Click here for more details, https://www.captainchrisshipstore.com/collections/ask-captain-chris-at-a-seminar  Or,  Ask Captain Chris 772-205-1859