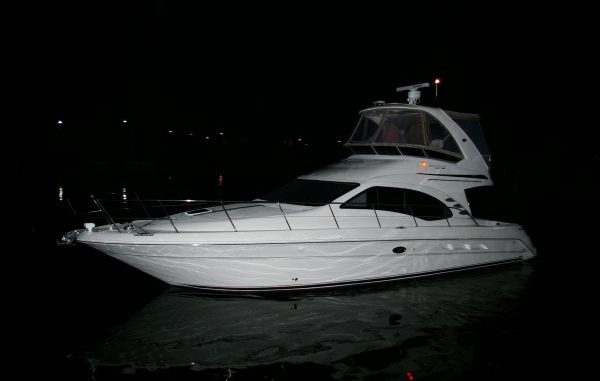 Vessel Type/length – SeaRay Sedan Bridge 44 foot
Engine Type/Horsepower – Twin Cummins 6 Cylinder 478 HP
Cruising Speed – 29 knots @ 2,400 RPM
Starting location – Cape Canaveral, FL
Final destination – Fort Lauderdale, FL then Venezuela, South America
This a brand new boat purchased by a family in Venezuela, South America. We were asked to help deliver the boat from the factory to a location in Fort Lauderdale. Then the boat will be readied for on-loading to a ship for the final journey to it's new home.
The first day is a short cruise to Fort Pierce, Florida. Our day is spent reviewing onboard systems and testing handling characteristics to prove the boat is ready to go. After arriving in Fort Pierce we fuel up and hose down, prepping her for the owners to ride with us for the remainder of our trip to Fort Lauderdale. Recognizing that Fort Pierce isn't that great a distance from our starting point we actually consider going farther down the ICW. But, since we started out in the car at 5 a.m. to meet the boat and dealer in Cape Canaveral we have already put in a long day. The next marina is hours away and the wind and thunderstorms require an inside run. Best to tuck in, rest up and get an early start tomorrow.

The next morning, the new owner's family arrives before sunrise and everyone comes aboard. We have an informal briefing showing safety features of the boat, life jacket locations and basic GPS Chartplotter operation. Yes there was even an iPod connection.
The sun starts to color the eastern sky orange so we cast off and head south. Again the ocean is stormy so we make the best decision and stay in the ICW. The owners and guests would not be introduced to a bumpy first ride.
Late in the evening we enter the New River near Los Olas Boulevard. We wind our way through twists and turns and too many bridges to count, finally arriving at our destination. This is a temporary dock where the boat will wait for about a week. Then the shipping company will on-load the boat to the next ship heading to Venezuela.
We combine this delivery with a bit of training as the owners are only able to join us for one day of the trip. This was a great boat, a great ride and FAST when you wanted the speed.