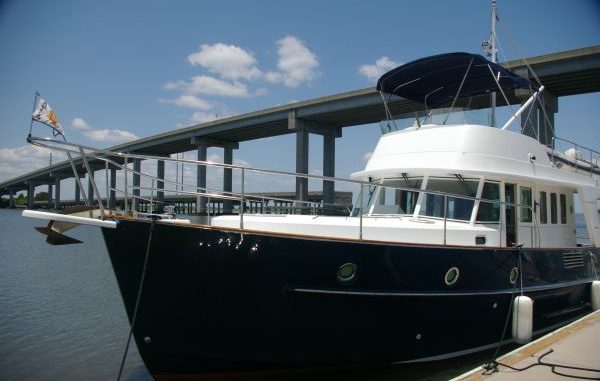 Vessel type/length – Beneteau Swift Trawler 42 foot
Engine type/Horsepower – Twin Yanmar 370 HP
Cruising speed – 24 knots or more economical 18 knots
Starting Location – Ortega River, FL
Destination – Fort Pierce, FL
On a beautiful fall day we are asked to deliver the Swift Trawler 42 from north Florida down to Fort Pierce. Since our starting point in Ortega River is only a 4 hour automobile drive we arrive at 10 AM and get started. After locating the boat we do a vessel inspection to be sure the boat meets all USCG requirements, check fluids, make a grocery run and drop off the rental car.
Before leaving we must fill the diesel tank and then Fort Pierce, here we come! As we pass the Ortega River Bridge we can see the calm wide open waters of the St. Johns River. We bring the boat up on plane and head north to Jacksonville and then east towards the ocean and ICW. Because of our late departure we decide to stay in the ICW and aim for St. Augustine. Cruising along, the wind begins to pick up but the weather stays clear. We pass Comanche Cove, the marina we usually visit, but we try to get farther down the ditch to make our second day a shorter one. We stop at Palm Coast Marina and have an easy tide and current free docking.
Next morning we cast off in the darkness and run at idle until the sun peeks under the clouds. After sunrise we open her up and run at an economical 18 knots. The weather is too rough in the ocean so we stay in the ditch with a heavy chop sending spray in the air – but not on the windshields.
This is an enjoyable trip with no weather concerns since we're now in the ICW. Arriving in Fort Pierce at a decent hour to shower we meet up with the President of Beneteau USA for dinner, discussing Fort Lauderdale Boat Show plans for the new Swift Trawler 52.