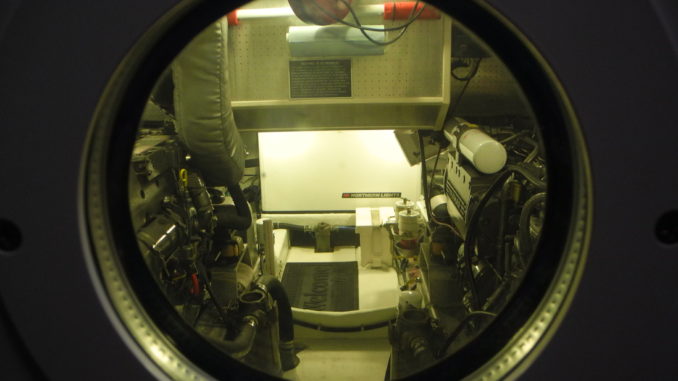 Sorta like the Where's Waldo puzzle, see what components you can find thru this engine room viewing port.
Let's start with the starboard and port engines including a generator in a sound shield. Be sure to keep the engine room door latched closed in case of an emergency when the automatic fire extinguisher will be effective.
Look for raw water strainers, oil dip stick, generator battery, twin oil filters, dual Racor fuel filters, insulated exhaust piping, Yanmar fuel filter, exhaust riser support brackets, injector timing pump manual primer pump, exhaust water injection elbow, heat exchanger, pencil zincs, spare distilled water jug, starter motor and throttle linkage.
Didn't find all that? Click on the photo on the right to enlarge it then look at the next two photographs for a better angle.
The video above is from our YouTube page showing how to clean sludge from your fuel filter. If you would like to see more FREE engine room and other boating videos just subscribe to our YouTube channel right here.
Understanding all of these items will prepare you to go boat shopping or…. if you didn't know what you were looking at or could not identify all the mentioned equipment then join us for Introduction to Boat Systems seminars in Vero Beach Florida.