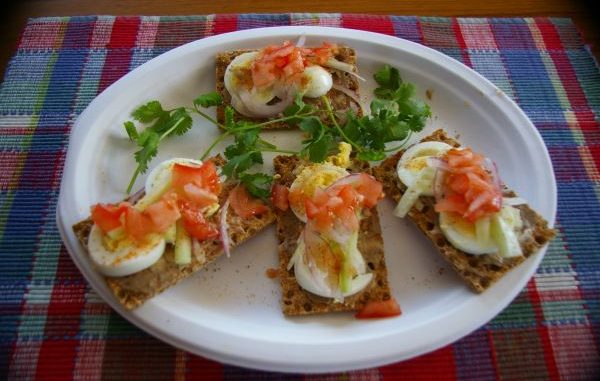 1/2 box Ryvita Crackers
Mayo or Miracle Whip
1 tube Anchovy paste
2 Hard boiled eggs
2 slices of thinly shaved onions
A few slices of shaved cucumbers
A few tablespoons of salsa if no fresh tomato slices are available
Firm Scandinavian crackers are the foundation of this yummy mini meal. Spread Mayo or Miracle Whip followed by anchovy paste for a salty base – don't be afraid of the anchovy paste. It's not as fishy as the real thing. Then layer slices of hard boiled eggs. Three slices per cracker works well. Next top with shaved cucumber slices and finish with a tomato and onion salsa. You won't need a fork but you may need two hands to be sure not to let any of the yummy toppings get away. OOH LA LA!