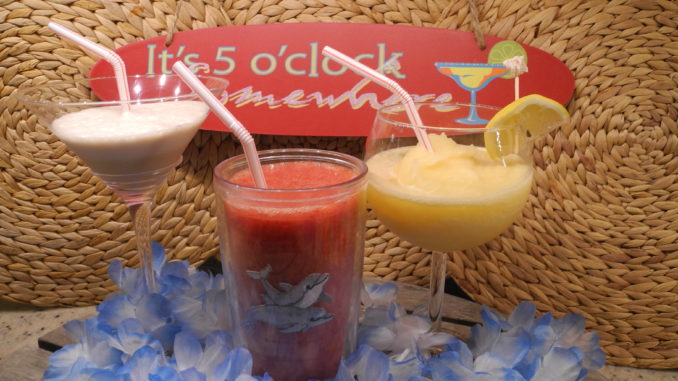 1 cup frozen* fruit- strawberries, bananas, pineapple or melons
1/2 cup vodka or rum
1/2 cup juice – crystal lite ruby red grapefruit has only 5 calories and no sugar but use any juice that tastes good to you
1 cup yogurt
2-3 drops of coconut extract
Ice
If you don't have an inverter then start the generator. Add frozen fruit to the blender. Pour in vodka or rum and fruit juice and ice. Pulse blender on high for a minute. Once fruit chunks become smooth then add yogurt and coconut extract and blend for about 15 more seconds. Add a straw and umbrella and poof! you're in the Bahamas!
*Only have fresh fruit? add more ice….As you cruise for a few weeks away from civilization you may find some of your fruit starting to wilt. Many types of fruit can be frozen and work quite well in this recipe.