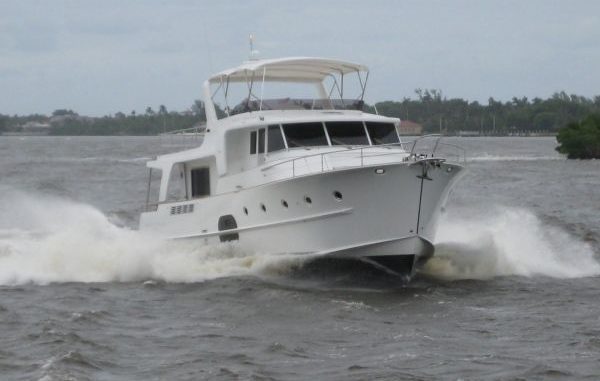 Vessel Type/Length – Beneteau Swift Trawler 52 feet
Engine type/Horsepower – Twin Volvo D9-575 HP Tier II
Cruising speed – 23 knots or more economical 18 knots
Starting location – Fort Pierce, FL
Destination – Fort Lauderdale International Boat Show (FLIBS)
It's now Boat Show Season and we have the new Swift Trawler 52 to deliver to the Fort Lauderdale International Boat Show. Hull number seven is the first Swift Trawler 52 in the USA and Lauderdale will be her formal introduction to the boaters of America.
We have both the Swift Trawler 52 and Swift Trawler 42 to deliver into their exact show locations before 11AM Friday morning. Because of the distance and foul weather we decide to run down the ICW to avoid the rough ocean. Despite the million bridges to be opened between Palm Beach and the show, we arrive at dusk the day before we are scheduled. The cozy pilot house makes for a wonderful trip, warm, toasty and relaxed inside as we navigate.
The wind is now blowing 30 knots from the east so we delicately dock the smaller ST42 boat and now have four people to help squeeze the larger ST52 into her temporary show berth. This is a challenge because the floating docks in front of us are ONLY 35 feet away and we have to shoe horn this 52 footer into the small space allotted for the show. The bow AND stern thrusters are a terrific help to squeeze her in. Getting her out next week will be a greater challenge…hope the floating docks are moved before we try to leave. Look below to see how tight things are at a show.
After tending to fender placement, lines just-so and the usual docking actions, we have a great time showing off this beauty to other delivery captains who are amazed that Beneteau has such a great power boat line.
This was a memorable trip with both of the Swift Trawlers traveling side by side, together for the first time in America.