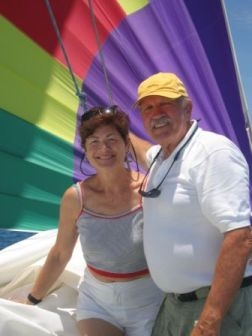 This recipe comes to us compliments of Judy and Marshall Benson aboard a 42 Manta Catamaran. Great boat, great people! We tasted this yummy treat last night and Judy garnished it with slices of the real thing- Key Limes!
Here is my Key Lime Pie recipe:
1 14 oz Can Sweetened Condensed Milk
4 Eggs
4 oz Key Lime Juice (Mrs. Biddle's)
Combine milk and egg yolks at slow speed, slowly add juice, mixing until well blended. Pour into 9" graham cracker pie shell and bake at 350 for 20 min. Top with whipped cream or meringue*. Refrigerate several hours to allow filling to firm before serving and ENJOY!
*Meringue: 3 – 4 egg whites, ½ c white sugar, ½ tsp vanilla. Whip till thick. Brown in 350 deg oven for 15 – 20 min
Thanks Judy & Marshall!!