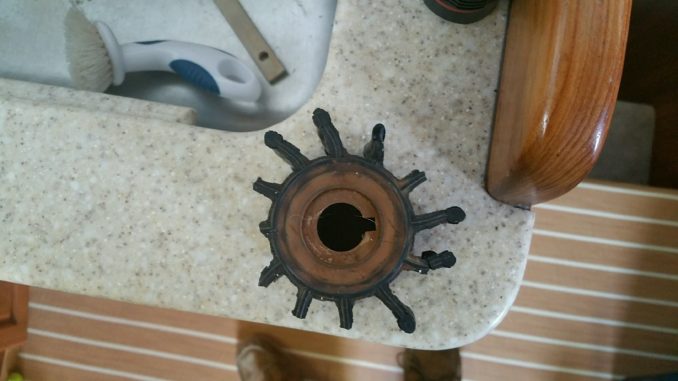 The Fifth of Seven Boating Systems Tips
The raw water pump on your marine engine uses a rubber vane impeller as a self priming pump. The impeller pushes the water through the system to cool the engine components including the antifreeze/internal coolant, the oil, exhaust manifold and hoses to name a few items. On a propulsion engine there are even more items to keep cool.
In this video we are inspecting the raw water pump impeller itself after we noticed steam and a low water flow from the side exhaust on our boat. If you haven't viewed the previous post check it out.
If the water flow is restricted by trapped debris in the strainer it can run dry, overheat and the vanes will break off further reducing or stopping water flow.
To solve this dilemma we inspected the rubber impeller. We notice quickly that it is missing vanes which are stopping the water flow. Not only is it important to remove and replace a damaged impeller but it is also essential to locate and remove all the missing vanes.
Watch carefully to see how we spy some broken vanes upstream in the pump inlet and downstream in the discharge.
Our next post will show a leaking vented loop dripping water onto the electrical generator. Uh-oh! This is a problem waiting to happen.