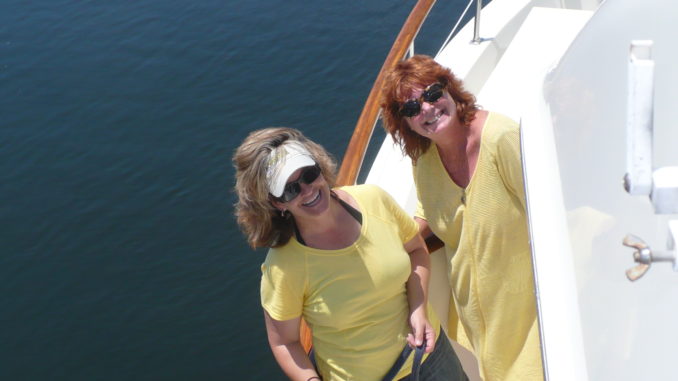 We are DOING IT aboard our Hatteras thanks to…
And here's a note from another satisfied cruiser…make that a VERY HAPPY FIRST MATE as she fills us in our their latest adventure….
Hi Kidz,
Been cruising the Bahamas since mid May and LOVING it! Anchored out in Lake Worth to begin the journey, then Pier 66. Waited for a smooth crossing day, and across to Bimini Bay Resort Marina. Then it was anchoring at Chubb Cay for a starry night. Guests clogged a head, but thankfully Cort was able to repair…Thanks, Chris, for your instruction last year…
On to Atlantis, and more guests enjoyed the Disneyland for Adults. Cruised the Exumas, snorkeled, fed the rays and sharks, iguanas and OURSELVES. Remembered Alyse's galley tips, and my provisioning for 3 months is more than ample. In fact, we are dining like kings!
Back to Atlantis for more guests. Then our favorite place, Harbour Island. ACs slowed down, and Cort was able to clean the screens and filters, so we are once again icy cool. Weather has been good, but one squall at sea didn't phase us, despite the blow. Back to Lyford Cay for a few days at the elegant club, and then more guests wanted to see Compass, Highbourne, etc… in the Exumas. Now back at Harbour Island to celebrate the Fourth of July with a full marina of mega yachts. BIG dock party and lots of rum.
So thanks, guys, for teaching us to live the dream. Cort has become an excellent Captain. In fact he was complimented by folks on the dock here for manuevering the TURTLE into her slip without thrusters. I think we are the only boat without them! But he has learned well. And his nav skills are finely tuned now, too. I have finally mastered the lines, and am actually a help to him. Do my stints at the helm and a little navigation. Not to mention my number one skill at planning, provisioning, and cooking. So we have honed our roles, and will venture further into the Caribbean next year. Had LOTS of guests this year, but did everything ourselves, much to our satisfaction.
Hope you are having a great summer, and we can have dinner together when we return to Ft. Pierce in August!
Thanks for a great update! We are so glad you are Living the Dream aboard Turtle your 58 Hatteras LRC!