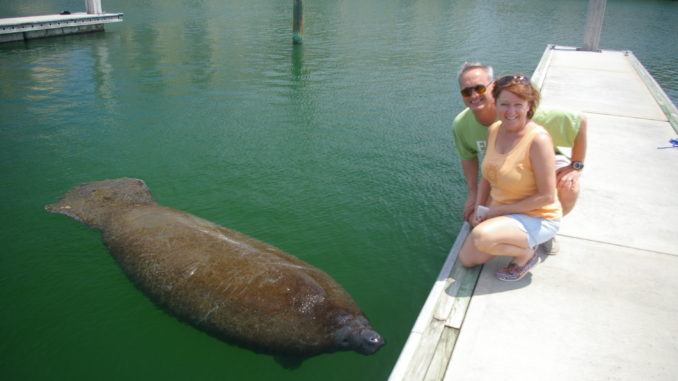 What do you do if you own a classic Chris Craft 410 Commander floating in a landlocked lake in Texas and want to learn about cruising the US East Coast and LOOPING? Spend a few days aboard Sandy Hook in south Florida.
(NOTE: We no longer charter our boat but are pleased to come aboard YOUR boat anywhere for personal training with you and your mate)
This boating couple enjoyed Living the Dream aboard our 44 foot training trawler while cruising the ICW on the Treasure Coast. Different than their lake boating, cruising in tidal waters involves navigating channels, maneuvering around and over the sand bars and experiencing turbulent waters of the incoming tide from Fort Pierce Inlet.
Anchoring was a joy too since this couple has not anchored on their Texas lake. Captain Chris reviewed the ABCs of anchoring and then we put words into action. It's great when a plan comes together!
The weather was rumbly and the winds were gusty at times so we were able to see how a trawler reacts with a fairly round bottom, full keel and s-l-o-w engines that top out at about 8 knots when we run at full RPMs. A little different than the Chris Craft.
All the fun we had was topped by a shore patrol trip for Bert when the dinghy motor refused to start. We used plan B and hopped aboard the YELLOW Kayak and paddled to shore, no big deal.
Many times clients come aboard to learn about what's needed on a cruising boat. While our boat is terrific for looping, hopping over to the Bahamas and living aboard comfortably, we are not stabilized. So, we do watch the weather and prefer to travel in seas of 4 feet or less or stay put a few days and wait for the weather to break. Mainly our travels find us in the protection of the Intracoastal Waterway up and down the entire east coast of the US. We have, however, been caught in 10-12s in the Chesapeake which wasn't any fun! That said, we can cruise just about anywhere along the eastern seaboard and the Caribbean if we don't have a schedule to cloud our judgement.
Although their first plan was to sell the Chris Craft and purchase a larger, ocean going trawler to go cruising, they are rethinking that plan. Maybe truck their boat from the lake and bring her to the waterways of the ICW? Maybe still look for that perfect trawler? It's good to have options!
Join us to start Living your Dream!