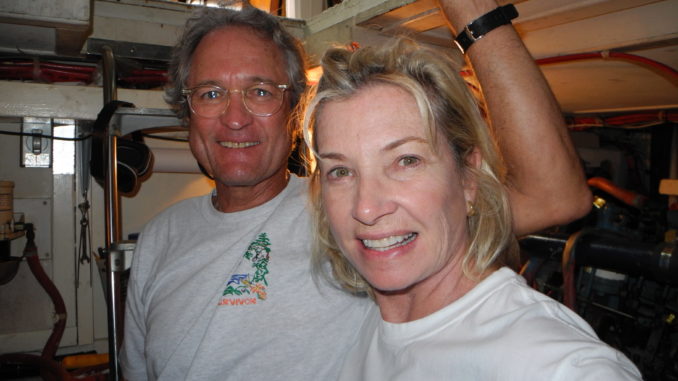 Like so many of our clients, Jerry and Pauline have been bitten by the cruising bug but they aren't quite sure they can handle a larger trawler. So, this couple joins us aboard our boat SANDY HOOK for five days of fun and they learn that yes, they can do this!
(NOTE: We no longer charter our boat but are pleased to come aboard YOUR boat anywhere for personal training with you and your mate)
With five days of training and Lake Okeechobee at high water levels we are able to do so many "firsts" with them on a boat of this size- anchoring, locking, mooring balls, docking, engine room basics just to name a few. Jerry was certain of his goal, Pauline not so much. But by the last day Pauline was such a pro that I feel certain this couple is well on their way to finding the perfect cruising boat that can tuck behind their house right on the ICW. Here is why I am so sure:
On our last day, last hour on the water we headed out toward the inlet channel to run a set of range markers. Pauline is comfortably at the wheel managing a 3+ knot current against our bow. Perfectly aligned with the range and the VHF radio blasts, "SANDY HOOK. SANDY HOOK. SANDY HOOK. This is the US Coast Guard on your stern" Uh-oh. "Could you tell us where your last port of call was and your next port of call?" We let them know we had just come from Faber Cover in Fort Pierce and would be returning to home port in just a few minutes. After an eternity of dead air they asked if they could board us and check for safety equipment. Naturally we agreed since Homeland security can do it anyway! They described how they planned to approach us from the starboard side and board from our midship. They also asked us to maintain course and speed of about 5 knots. Chris asked them if we could take photos of their visit and they agreed.
Opening the side handrail, they asked Chris and Jerry to stand back as the patrol boat approached our midship. Two boarding officers stepped aboard our boat and headed to the aft deck while they asked the proverbial 20 questions.
First question, "Are there any weapons aboard, if so, what type and location?" They want to locate the weapon and disable it and don't appreciate any help from the owner who must remain above deck while they locate it. They also copy the weapon information and serial number to call into the local sheriff's department checking on status. Next they ask for vessel papers to review documentation and registration while the second officer checks the bilges for leaks and inspects firefighting equipment and life jackets. After the inspection was completed they called the patrol back to pick them up, we all shook hands and they stepped aboard their boat and departed.
Painless and interesting, the entire event took less than 15 minutes from initial boarding to departing.
Did I mention that at no time did they come up to the flybridge where Pauline was at the helm. She remained calm, cool and collected throughout the entire process and held a course that any skipper would be proud of. Alyse did radio the patrol boat and let them know that we would be performing a 180 as we had no intentions of going out into the ocean with 20knot east winds. Pauline maintained her RPMs throughout the turn so she could see the effect that this ripping current from an incoming tide had on our speed. After all, this was a training trip and school was still in session! Pauline, you get an A+.