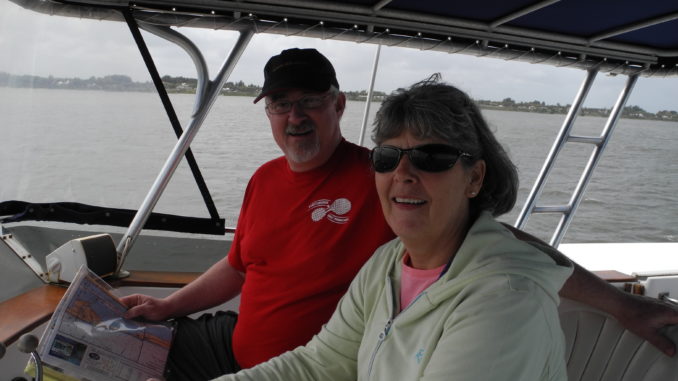 So you've been planning your cruise for months and on departure day the winds are howling 25 steady and gusting in the high 30s. What do you do? Come aboard with Captain Chris and we'll fill your head with possibilities.
(NOTE: We no longer charter our boat but are pleased to come aboard YOUR boat anywhere for personal training with you and your mate)
Although we had plenty of sunshine, the first day with this Upstate New York couple was WINDY!! When your experience is only with small lake boats you might consider doing some of that maintenance you've been putting off for a rainy day.  Fortunately for this eager couple, we had plenty of shore side and below decks training to do while we let the howling winds settle to a dull roar.
Line handling practice on the dock prepared us for when we left the pier the next day and it also helped this couple adjust to the increased weight of lines for a boat this size. A boat yard tour rounded out our first day of weather-accommodated training. This helped them appreciate full displacement vs. planing hulls, skegs, keels, barn door rudders and active fin stabilizers, all important designs and options to consider when purchasing your perfect cruising boat.
Day two was considerably calmer and much less gusty but still a breezy 18 knots so we carefully selected our route to provide appropriately protected anchorages along the way. Out into the waterways of the ICW we go…regardless of the 4-6 foot seas still roiling in the nearby ocean. The wind continued to be a factor in our maneuvering, crabbing as we worked to stay in the channel on our southerly trek. Other boaters weren't so skilled and wished they had watched both the nav aids in front AND astern, a talent Debbie & Dennis developed quite proficiently with all the clocking winds encountered during our time aboard. Almost like having eyes in the back of your head!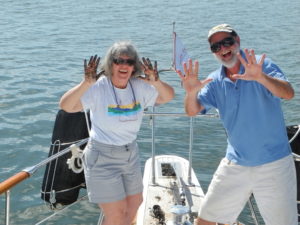 Lots of skills learned and practiced during this fun five day cruise including docking at fixed and floating docks, anchoring, navigating and trip planning. We discussed making smart decisions based on weather reports vs. actual observed weather and how much to rely on forecasts. Scroll down and click on the photos to enlarge them and to see some of what we experienced in the wonderful waterways of the Treasure Coast.
Is it your turn to start Living the Dream? Ask Captain Chris 772-205-1859