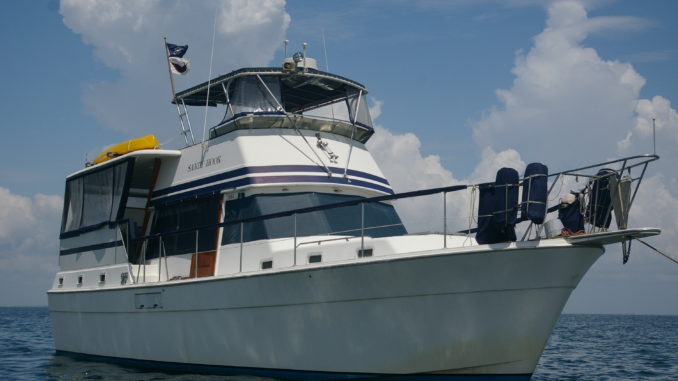 Don't have a boat yet? This terrific trawler could be yours!
(NOTE: We no longer charter our boat but are pleased to come aboard YOUR boat anywhere for personal training with you and your mate)44 feet of cruising fun! Loopers, snowbirds or coastal boaters who want to enjoy the waterways will be interested in this classic cruiser. Scroll down and check out a few photos before heading to the online brochure available for your review.
Each morning after breakfast but before starting the engines, review all your lifestyle systems that make boating comfortable and safe. Plan a trip down the coast or over to the Bahamas. You have enough fuel capacity and storage space to bring everything you need for the journey of a lifetime.
After each day at the wheel, head to the fully appointed galley. There's nothing better than relaxing over a fine meal while dining on board. Mmmm. Just imagine what magnificent meals you can create when the spirit moves you. Or hop in the dinghy and find a tiki hut that serves the perfect Gumbay Smash to compliment your cheeseburger in paradise.
Call Captain Chris Yacht Services 772-205-1859 or send us an email at chris@captainchrisyachtservices.com to start living your dream.
Contact Captain Chris TODAY before someone else is sitting in YOUR helm seat!..Think of all the fun you can have while living aboard….Living the Dream….cruising along the waterways on your very own trawler!