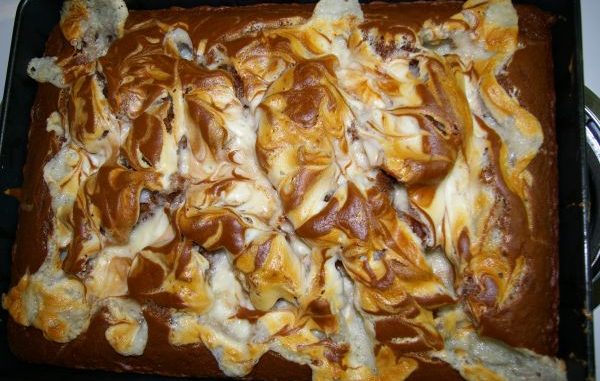 This is a most amazing cake. Chris' mother, Janette gave us this easy recipe after she made one for us. On a boat you might be concerned about baking since you can rock and roll from wakes or weather. No worries here…It's a crowd pleaser and is fun to share with guests. Make the cream cheese icing first and don't worry about the calories!
Cream Cheese Icing
1 Stick butter, 1 8oz. Pkg cream cheese, 1 tsp vanilla, 2 cups confectioners sugar. Blend all ingredients together until creamy. Set aside on counter. (You can cheat and use canned icing of almost any flavor too!)
Cake
Preheat oven to 350 degrees.
Grease bottom only of 9×13 baking dish. Coat bottom of pan with shredded coconut. Sprinkle chopped pecans to cover most of coconut layer. Prepare German Chocolate cake from Box mix as directed. Pour cake mix in dish over coconut and pecans. Pour previously prepared icing onto cake mix. Swirl a toothpick through the icing to achieve a marbled look. Bake at 350 degrees for 40 minutes. Let cool on counter for 20 minutes or so and watch the earthquake happen!
More Galley Tips
We share many Galley Tips with new boaters, having lived aboard and cruised for 20+ years. Please join us for this and more at our next Cruising 101 FUNdamentals seminar in Vero Beach FL. Can't make the seminar? Here's a link to Galley Tips, a helpful training video with tons of tips for the new boater. Ask Captain Chris…or Alyse 😉 772-205-1859