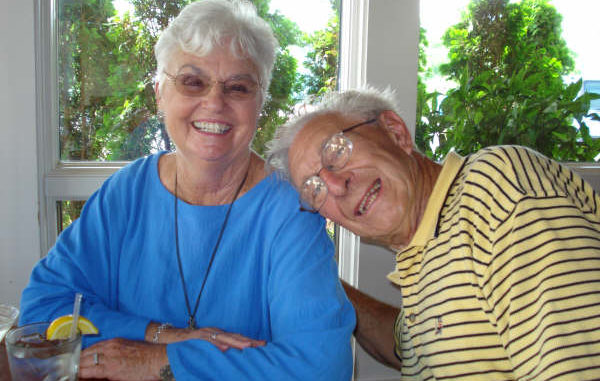 If you're lucky enough to have a garden or at least a nearby Farmer's market, here are some yummy EASY treats to create in a snap. Once again these recipes come from the Minnie Gump Bugger, a 38 foot Pearson. Merillyn and Gene are summer live aboards in Beach Haven, NJ.
ZUCCHINI CASSEROLE
In a bowl, combine 1 cup BISCUIT/BAKING MIX, ½ cup grated PARMESAN CHEESE, 1 tbsp DILL WEED, 1 tsp SALT and 1/8 tsp PEPPER. Add 4 EGGS beaten, ½ cup OIL, mix well. Stir in 3 cups chopped ZUCCHINI and 1 large chopped ONION, until blended. Pour into a greased 1-1/2 qt. baking dish. Bake uncovered at 375o for 25-30 minutes or until golden brown.
Prep Time 30 minutes; Cook 30 minutes; Yields 6 servings
DILLED BRUSSELS SPROUTS
Cook 1 (16 oz) package frozen BRUSSELS SPROUTS according to package directions; drain well. Combine sprouts with ¾ cup ITALIAN DRESSING, 1 tbsp chopped DILL (or 1 tsp dried) and 2 GREEN ONIONS, sliced, tossing gently. Serve immediately or cover and chill 3 minutes.
Prep time 2 minutes; Cook 10 minutes; Yields 4 servings
EASY ORANGE GLAZED CARROTS
Combine 2 tbs BROWN SUGAR 2 tsp CORNSTARCH, ¼ tsp GROUND GINGER, ¼ tsp SALT and ¾ cup ORANGE JUICE, stirring constantly. Add 1 jar drained CARROTS cook 2 minutes.
Prep Time 3 minutes; Cook time 2 minutes; Yields 8 servings
CORN & ZUCCHINI.
Cook 1 (16oz) pkg FROZEN WHOLE KERNEL CORN (or 4 cups fresh corn kernels) and 1 large ZUCCHINI, cut into ¼ slices in ¼ cup melted BUTTER in large skillet over med-high heat, stirring constantly for 4 minutes. Add 4 GREEN ONIONS, SLICED, and 1 tbsp PARSLEY, ½ tsp SALT AND 1/8 tsp PEPPER. Cook, stirring constantly for 1 minute.
Prep Time 3 minutes; Cook 5 minutes; Yields 6 servings
CORN & SWEET RED PEPPER
Melt 3 tbs BUTTER (or margarine), ¼ up chopped SWEET RED PEPPER and cook, until tender. Stir in 1 (15.25 oz) can whole KERNEL CORN, drained, 1 tsp CURRY POWDER, 1/8 tsp SALT and 1/8 tsp PEPPER. Cook for 3 minutes, stirring often. Stir in ¼ cup WHIPPING CREAM, cook, stirring constantly until thickened.
Prep Time 2 minutes; Cook 8 minutes; Yields 3 servings