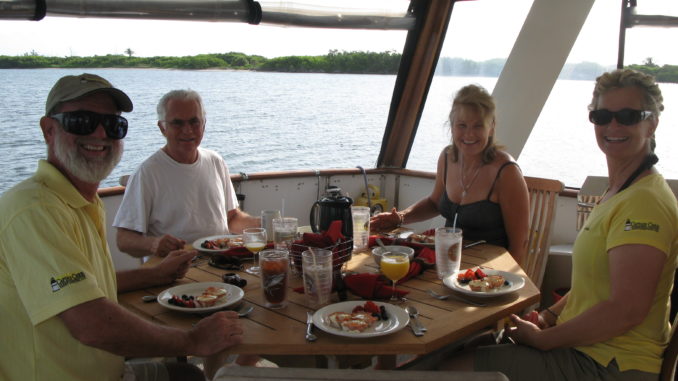 We are from New Orleans let me say YES we are food snobs. We enjoy dining on china plates, silverware and with cloth napkins. And the food is equally important- fresh, cooked properly and wonderfully presented.
Cruising does not have to be camping no matter how small the boat. NO paper plates, plastic forks or Styrofoam cups on our boat. NO! NO! NO!
Imagine drinking a good wine from a plastic cup or an average wine from a glass goblet. Think, close your eyes and which tastes better.
Of course we wait until we are finished for the day and either safely anchored or back at the dock before we bring out the breakables.
But let's get into the meat of the matter. You need to think outside of the box – the BOX STORE, that is. You can no longer buy a gallon of mayo or 20 pounds of rice. Consider instead that you now purchase items that fit into your smaller refrigerator and cabinet space. This is not problematic because there are usually only two of you aboard.
Alyse presents a seminar at many boat shows and rendezvous, "Confessions of a Galley Slave". Check our calendar for the time and place of her next Galley Slave Seminar.
Here are a few recipes you can prepare in your galley.