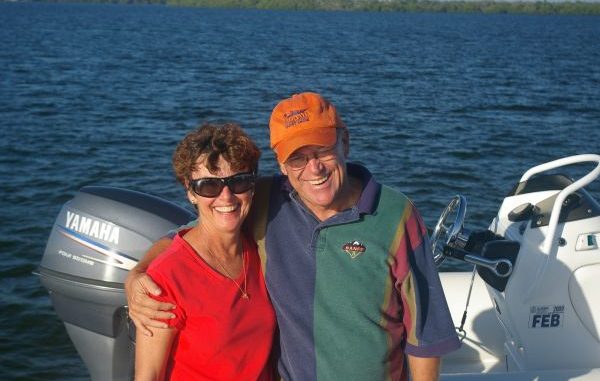 Buck and Haldine are the proud new owners of a Kadey Krogen 44. They planned to do the Great Loop in one year…until the cruising bug hit them. We have no doubt that one day the ends of the circle will meet but until then they are enjoying every moment of their journey as they meander about the waterways:
Dear Chris and Alyse:
We are having our morning coffee at Ocean Marine Yacht Center in Portsmouth, VA on Memorial Day overlooking some of our US Navy ships in dry-dock. We have been discussing the many situations we have experienced since moving aboard our new Krogen 44, DARLING, nine months ago. This type discussion always leads to a list of good, and bad, decisions we have made along the way. The two best decisions we made were buying a Krogen, and hiring Captain Chris Yacht Services to train us in how to handle, and maintain, our new vessel.
The training in maneuvering and handling a single-engine vessel for the first time took away much of our new-owner anxiety in that area. Chris was very patient, and actually made the experience an enjoyable 2 days. As you remember, I had dozens of maintenance questions due to me being "mechanically-challenged". Chris did not make me feel uneasy about asking any questions, including "Why do we need a saltwater wash-down on the boat?"
One of the best parts of this ten-day training was the fact that we had a husband-wife team training us as a new cruising couple. Haldine appreciated the training that Alyse provided in navigation, docking, line-handling, maintenance, and provisioning. We use some of Alyse's meal-planning techniques daily as we cruise. The seven day "shake-down" cruise from Stuart, FL to Panama City, FL was outstanding, especially being able to do the 160-mile crossing of the Gulf of Mexico under your watchful eyes.
We must say that the best thing about our ten-day program that we requested was that we began the time as teachers/students and ended the time as friends. We recommend your services to all the new cruising couples we meet, and we look forward to having you aboard in the near future.
Sincerely,
Buck & Haldine Baxter
DARLING
Krogen 44021