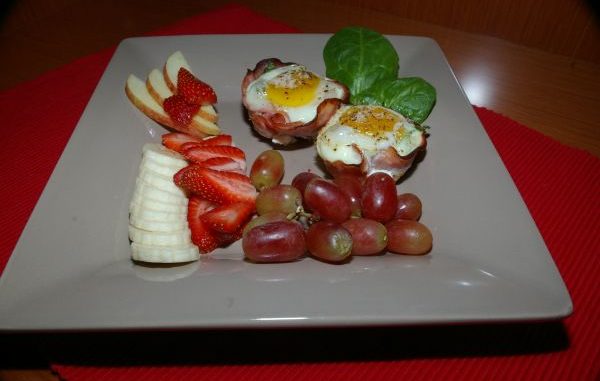 …OK so it's more like a muffin tin than a bucket but alliteration is difficult with an M and ham and eggs. Like everything else I create this is something quick and yummy that'll make your guests feel special.
Preheat oven to 350….don't they all start that way? Conventional gas or electric, toaster oven, or convection – any will do.
Spray your muffin pan with Pam (to tell the truth I didn't have any Pam, oil or butter on our last trip and it worked fine without greasing the pans). Take ordinary sandwich ham, the cheaper, the better. Line each muffin cup with the ham as if each slice were a cup cake paper. If you have really thin slices you may want to use two slices. If the slice hangs over the edge that's even better. Next, sprinkle whatever chopped veggies you salvaged from the wilted-and -almost-dead pile, some into each ham lined muffin cup. If you only have fresh that's fine. If you only have cheese then shred it with abandon.
Here's the fun part. Crack open and drop one egg into each muffin cup. Ground black pepper or other seasoning to keep the eggs from looking too pale and pop 'em in the oven for about 10 minutes, depending on how hard you like your yolks. Once they're done, slide a fork around the outside of the ham and there's your breakfast in a bucket!