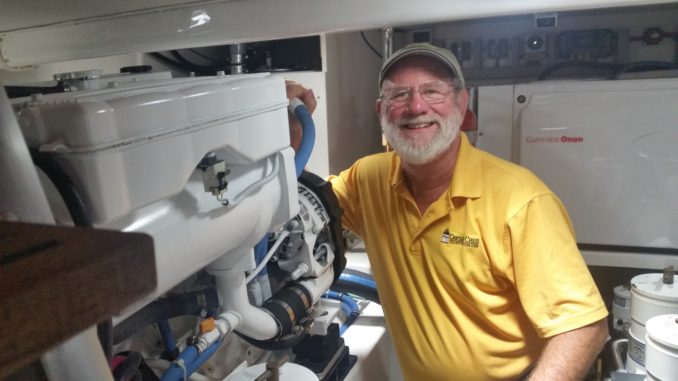 DUE TO POPULAR DEMAND!!!! We've added another February date for this hands-on seminar!!
Captain Chris takes the mystery out of maintenance for boat owners. Now on Friday February 19, 2016 too!
If fuel filters, impellers & bilge pumps aren't in your everyday comfort zone then this one day seminar will help prepare you to start your Cruising Adventure. From changing your own fuel filter to maintaining your shaft seals, Captain Chris will get you safely on your way…saving your $$ for marinas not mechanics!
In one jam-packed day with real boat parts, hands-on practice and problem solving ideas Captain Chris will cover:
POWER MANAGEMENT – live electrical panel including AC and DC systems
INVERTERS – what they do and how they make boating life better
FUEL FILTERS –  how to replace an element
COOLING SYSTEMS– complete engine raw water and fresh water
PUMPS & IMPELLERS – tricks to replacing yours
SHAFT SEAL – traditional and dripless designs
BLACK WATER SYSTEMS – from the head to the holding tank including macerators
BILGE PUMPS – trouble shooting
AIR CONDITIONERS – water pumps and strainers
SAFETY REVIEW -inflatable PFDs, liferaft and ditch bag
Come to where the tropics begin in Vero Beach, Florida and Ask Captain Chris about boat maintenance.
Though we recommend all crew members attend, this seminar is only a few miles from the Atlantic Ocean, the Outlets of Vero Beach and the Seal Museum…if your partner decides to jump ship for the day and enjoy the Florida sunshine! Space is limited.

Location: Captain Chris Yacht Services,  2845 Citrus Place, Vero Beach FL 32968
Select your seminar date from one of three choices: January 23 (sold out), February 19, February 20 (sold out), or March 12, 2016 from 9am to 5pm.
What people are saying about Captain Chris's seminars:
These rather easy to do projects can be learned by the average boater or at the very least they can talk the same language to their mechanic if they don't want to get their hands dirty.  Very well priced for all that you get. This is a great idea!  Brian W
Linda and I want to preregister for your class, especially if it is in Vero or close by. We will make a vacation out of it. We learned so much from you guys, but still have much more to learn and I think the price is well worth while. Ken H.