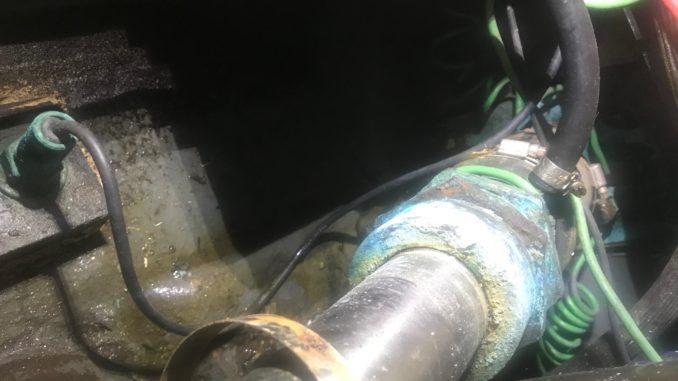 What would YOU do?
Ten o'clock last night I received a frantic phone call from a new boater. The engine room bilge pump would not shut off. Reason? The bilge was flooded. Hmmm…The source of the leak was a propeller dripless shaft seal leaking water into the boat. The bilge pump could not keep up. You know these things never happen at convenient times. Did I mention it was waaay past cruisers' midnight?
What could he do right then? Simple: Ask Captain Chris! I suggested that he take a photo with his smart phone, text it to me and I would take a look. What I saw is a traditional shaft seal that is designed to drip but not gush. I talked the boat owner through the service process to slow the leak. I also described the method to repack the flax but he decided to wait to call a tech the next morning. (I should tell you that he was somewhere on the ICW tucked in a marina and I was driving on I-95 100s of miles away.) It could've been a bit easier if he had the right tools aboard but he decided to make do tonight with the basics to get through until morning when a tech could check it out.
What could he do to better prepare? Learn more before you go. Save money. Get a good night sleep aboard when you know how to perform simple boat owner maintenance skills. AND! Have all the proper tools for the what-if maintenance tasks that happen even after you leave the dock.
A few days later we met aboard in Fort Pierce where we created a to-do list for his planned boat yard haul out. Stay tuned for more on how we created the list and what is planned for preventive maintenance and even an upgrade or two. ANd check out the video below to see what else I discovered when looking at the shaft seal repacking.
Learn more in our Introduction to Boat Systems class. And be more confident as you cruise with your mate by attending our Cruising 101 FUNdamentals class too. Check the dates here.