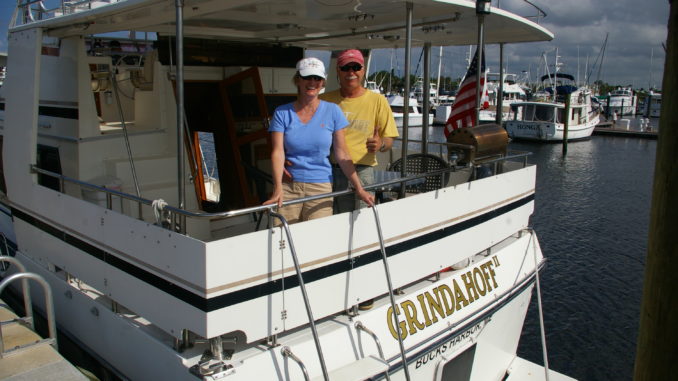 The new owners of this Golden Star 42 found us on the web when they were searching for other Golden Star owners. We had helped another couple transition from a smaller boat to their recently purchased larger boat, also a Golden Star 42. And, both couples are from Maine! Cruisers really are a small community.
We met Mark & Becky two times, first for their sea trial and survey then again after they purchased their new boat. We helped them transition from their sailing experience to POWER BOATING.
As Mainers, they are familiar with tides and the effect on boating but they don't have the narrow channels like the Okeechobee Waterway or ICW. So we have our work cut out…and we see a few unlucky examples to illustrate the point.
We review ship's systems below deck including inverters, twin engines, generator charging and AIR CONDITIONING, something they are not used to in Maine.
Follow the photo journal to review our adventures in south FL before they head home up the ICW, Jersey Coast, Long Island Sound, Cape Cod Canal and finally into Maine State Waters.