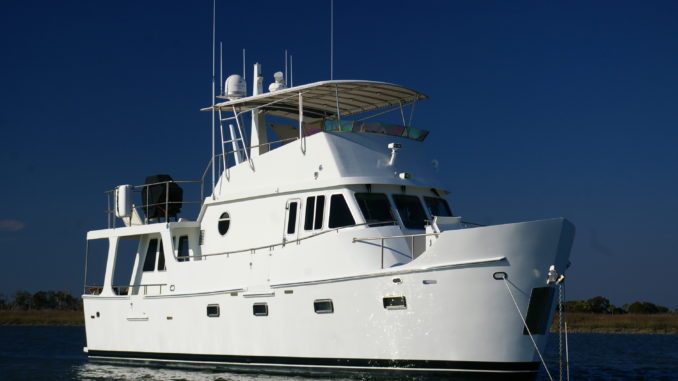 After many years living aboard their land cruiser- a German bus converted to a recreational vehicle- Sean and Louise had blue water cruising in mind. When they finally found their perfect boat they called Captain Chris to start them safely on the waterways.
This couple spent years researching and learning many things along the way about the life of a seafarer. Attending numerous TrawlerFests, boating seminars and meeting so many people who are actually doing it was motivating. A year or so before finding VECTOR, Louise and a good friend also came aboard our training trawler and got some hands-on practice to supplement all the research.
Now it's really happening. With coaching from Captain Chris they started their hands-on education aboard their 52 foot VECTOR. Because they had never owned a boat and jumped right to the big boys (52 feet is a lot of boat!) they followed with many days of close quarter maneuvering practice with a local captain in Hilton Head over the next few weeks. Practice really does make perfect.
You can find Sean and Louise cruising in the Chesapeake Bay area this summer. If you are lucky then you will probably meet them at TrawlerFest Baltimore and this time they will arrive by their own boat!