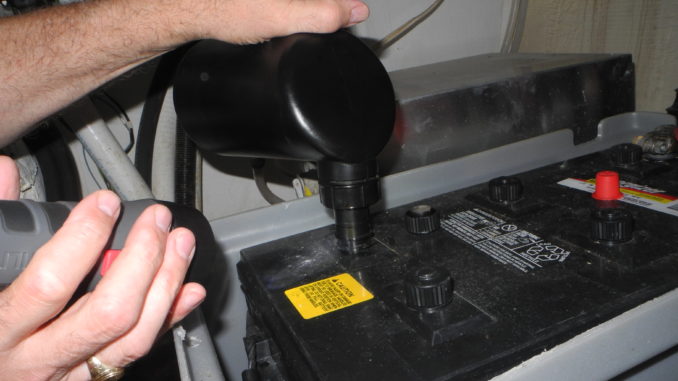 Ready to go for a boat ride, you have checked your fluids and loaded up the galley in anticipation of a wonderful day on the water. Next step? The fuel dock where you take on 100 gallons and pump out your holding tank. All Set? You bet! Let's get the engines purring again and let our lines free…Starboard? Go! Port?…Port? Um, Port?…hmmmm.
The starboard engine started up easily but the port engine will not budge. Less than 30 minutes ago both engines were happily running as we idled over from our marina slip. So what's a captain to do? Open the hatch and take a look.
Steam and an acrid odor assault our senses so our starting battery is suspect. Fortunately the battery lid offers protection from possible explosion and that battery cover is an important part of your vessel equipment. But now what do we do?
It's too dangerous to add distilled water to your battery at this point and you can't safely replace or work on anything until things cool down. This probably means we must wait until the next day to resolve much but first things first. Turn off the battery charger to stop overcharging this battery. Then disconnect the battery terminals.
Looks like our day isn't going as planned and we should probably head back to our slip. So, let's try the battery parallel switch for an internal jump start and get that port engine started. Click- click-click. No dice.
While the battery is clearly a problem, the second engine starting is not battery related. It may be a solenoid issue but we will need closer inspection to determine the real culprit.
So returning to our slip using only one engine will require some finesse and a spring line. Back and fill works very well on a true single engine boat so we use this tried and true method to get close to our dock. Being prepared for all options, we have lines ready at every cleat including the mid ship. Fenders are deployed in strategic locations and a few walking fenders (not tied) are easily accessible just in case we get too close to a neighboring boat.
If you'd like to learn more about this and many other boat maintenance issues, Ask Captain Chris! Our Introduction to Boat Systems Seminar is designed just for you. 772-205-1859