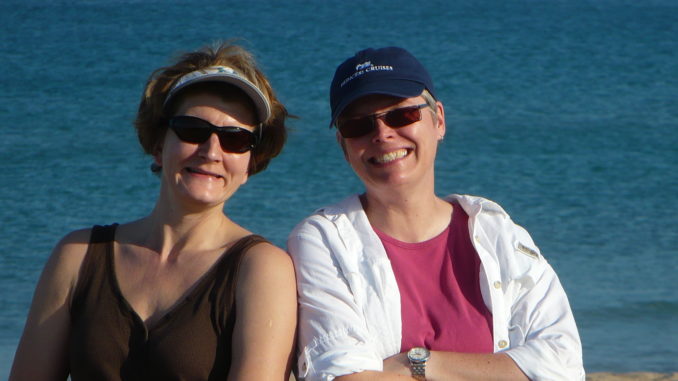 We first met Louise and Sean at the Stuart Boat Show in 2009…and again at TrawlerFest Fort Lauderdale and Anacortes WA and whew! We lost track of all the different boating seminars and trawler shows where we've learned and laughed together…But this time Sean isn't part of the crew signed on for trawler training aboard SANDY HOOK.
(NOTE: We no longer charter our boat but are pleased to come aboard YOUR boat anywhere for personal training with you and your mate)
Louise introduced us to her friend Stephanie who also wants to learn more about handling a cruising boat. Sean and Louise are currently cruising across country in a land yacht (an RV) and they do not yet own a cruising trawler but are learning all they can to help make their final decision. While Louise hasn't quite determined the specific boat, she and her mate are definately going to sea in the near future.
Stephanie and her mate Martin have aleady had a big adventure aboard their own 43 foot Tiara Express Cruiser with IPS. Last year they cruised in the Bahamas and south Florida before shipping the boat west to California. They decided they want to continue living the cruising dream but this time aboard a more traditional trawler, a real passagemaker. Before they commit to their perfect cruising yacht, Stephanie wants to learn more about boat handling so she can contribute more to the adventure.
These great friends have a terrific time while trawler training aboard with us and bring back so much confidence that their spouses are quite excited for the next step in their cruising journey.
Get ready world! Here they come!