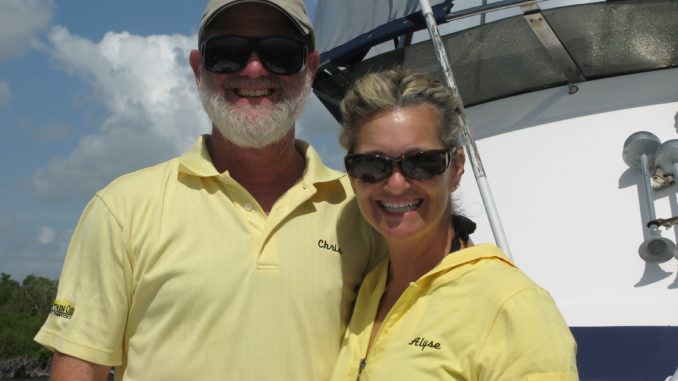 Come join Captain Chris Yacht Services at TRAWLERPORT within the Fort Lauderdale International Boat Show October 26-28, 2012. We'll present many seminars in the TrawlerPort tent throughout this exciting boat show. Are you ready to start Living the Dream?? Call Captains Chris & Alyse 772-205-1859 and we can show you how!
SEMINAR TOPICS:
Friday October 26, 20012 @ 3 PM
Cruising Together– How a cruising couple got started and continued the lifestyle for the next 20 years. From their first weekend adventures to living the dream aboard a 44 foot trawler, your eyes will be opened by Captains Chris and Alyse Caldwell as they share their experiences cruising together…and still like each other!
Saturday October 27, 2012 @ 11 AM
Bahamas Bound. Easy cruising plans for the Bahamas, just 54 miles from Palm Beach, FL. Captains Chris and Alyse Caldwell will help you stage your boat in Palm Beach before crossing the Gulf Stream to Grand Bahamas and on to the Abacos and Marsh Harbor. Plan to stay for a few weeks or the entire season. We'll discuss US and Bahamian Customs information, where to go and what to do while relaxing in the island paradise. Don't forget your Q Flag and Bahamian Courtesy Flag.
Saturday October 27, 2012 @ 2 PM
Keys anyone? Discover Key West and the Conch Republic in your own boat. Captains Chris and Alyse Caldwell will show you how to prepare to cruise to paradise in the USA. The two popular routes are the inside route via the ICW and Florida Bay or Hawks Channel for deeper draft vessels between the reef and the island chain. Wonderfully clear water, fishing, snorkeling and scuba diving are all within 3 miles of your anchorage or marina dock. All this is in the USA, no passport required!

Sunday October 28, 2012 @ 11 AM
ICW Gulf Intracoastal Waterway. Attention LOOPERS and Dreamers: Cruise the Gulf Coast from New Orleans to Fort Myers, FL which is an important section of America's Great Loop. Captains Chris and Alyse Caldwell will help you plan the cruise from the charm of New Orleans through the Mississippi Sound, Biloxi, Mobile Bay and into the Florida Panhandle. Apalachicola is one of the jumping off points to cross the Gulf of Mexico over to Tarpon Springs, Clearwater and Tampa Bay. Here you reenter the ICW and cruise south to Fort Myers where you will meet the Okeechobee Waterway. You can choose to continue south to the Keys or try some locks as you travel east on the OWW across the state to Stuart and the Atlantic Ocean.
Sunday October 28, 2012 @ 1PM
What does it really cost to own a cruising boat? From deciding what style of boat will accomplish your goals to budget considerations, Captains Chris and Alyse Caldwell will guide you through this new adventure. These seasoned cruisers will share their personal experiences as owner/operators and offer you options in your cruising future that won't break the bank.