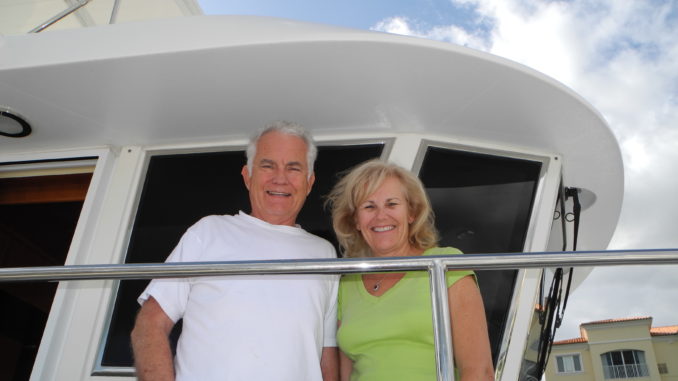 This AZ couple planned to go cruising…or at least they thought that's what they wanted to do. To confirm this retirement dream and before they purchased this lovely 50 foot Ocean Alexander, they came aboard our trawler to discover a few things.
First, Claudia needed to master the ABCs of cruising including line handling and living in tight quarters…as compared to a traditional home. You may have read about them in the PassageMaker Article Your Boat or Mine.
After a few short but whirlwind days aboard with us, this girl was on board…literally. The next year and a half was spent searching for the right boat to live their dream. Their perfect boat would not only be a safe and comfortable cruiser but also would accomodate their family and friends as they join them along their coastal route. Ta-Da! This Ocean Alexander is a perfect fit.
Our cruising calendars collided in Fort Pierce where Captain Chris snapped a few photos to celebrate their success!