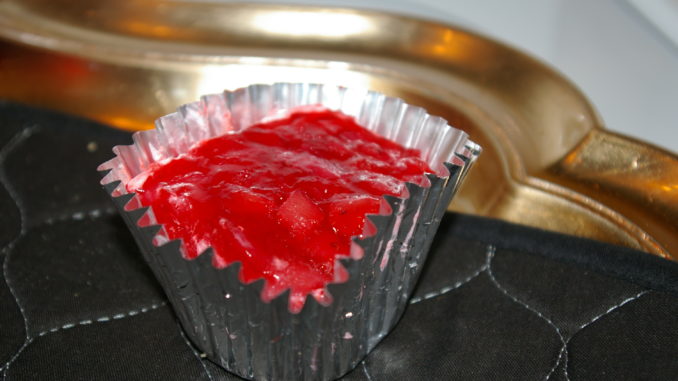 Really! Pretzel Salad?? This is so much yummier than the name lets on! Just had a party with LOTS of boaters and this was such a hit…once we convinced the guys to try anything with SALAD in the title! Thanks to Judy Doucette for this festive fun dessert! The sweet and salty flavors are a perfect blend.
2 cups crushed pretzels
3 tablespoons sugar
3/4 melted butter
8 oz pkg cream cheese
3/4 cup sugar
8 oz. Coolwhip
2 pkg strawberry Jello
small can pineapple
16 oz sliced frozen strawberries
Preheat oven to 400.
Mix first three ingredients together in a bowl. Spray a 9×13 pan with Pam. Spread pretzel mixture in bottom of pan and bake for 7 minutes. Remove from oven and cool/refrigerate.
Mix softened cream cheese with 3/4 cup sugar and fold in 8 oz of Coolwhip. Spread this mixture over pretzel crust. Refrigerate.
Next Boil 2 cups of water and add to 2 packages of Jello. DO NOT ADD ANY MORE WATER!!! Refrigerate until it just starts to gel. Thirty minutes or so depending on your  fridge.
In a separate bowl combine strawberries and crushed pineapples including all the juice. Add this mixture to the slightly gelled Jello and pour over the cream cheese layer.
Refrigerate overnight or at least 4 hours. Judy cut it into huge squares and placed in foil cupcake wrappers but you could stretch the number it serves by making smaller portions. YUMMY!
NOTE: Change out the pretzels for gluten free and no one will ever know! Delish!!