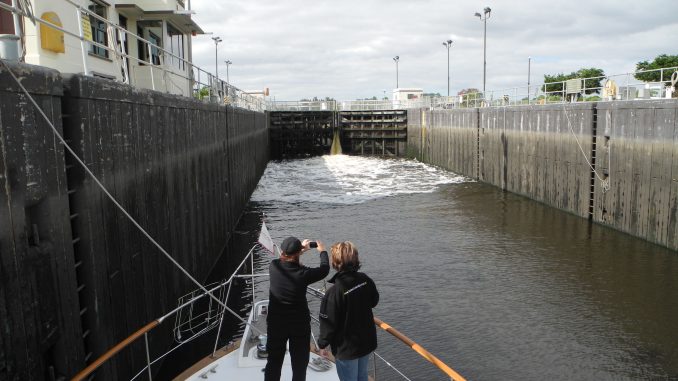 Old news that matters.
So you wanted to take a slow ride across the Okeechobee Waterway while cruising through Florida. Well, just in case you missed it, the Okeechobee Waterway St Lucie Lock reopens soon. The U.S. Army Corps of Engineers already closed the St. Lucie Lock on the Okeechobee for three months, from January 2 to March 31, 2022 for repairs. This announcement means that anyone wanting to cross from the Gulf Coast to the Atlantic Coast is not able to cut all the way across the lake during that scheduled time frame. But instead, winter cruisers have to go the long way around via the Keys and Miami. The time and cost differential, depending on the boat, must be considered. Or you can just wait until the St Lucie lock reopens.
St Lucie Lock Reopens Soon
The Army Corps expects the Okeechobee Waterway to be open to boat traffic on April 1st… NO FOOLIN'? I hope.
If this lovely waterway was on your RADAR and you are still nearby when the opening happens then you may get to experience a different side of Florida. The INside. Travel along the inside cut of the Intracoastal Waterway, traverse 5 locks connecting the Gulf of Mexico to the Atlantic Ocean, straight across the state. But be prepared for a rush of boaters who wintered on the FL Gulf Coast and who may now crowd the waterway to the Atlantic on their hurry up to Norfolk.
Uh-oh. You've never done a lock? No worries. Captain Chris has a great Locking tutorial that you can view right here. Like a boy scout: Be Prepared.
Toss Your Schedules and Slow Your Ride
We recommend a slow ride across the Okeechobee Waterway to enjoy a part of Florida that many have never experienced. And, here are a few ideas to consider while crossing the Okeechobee. Stop in Moore Haven at the linear dock for the night or on to Clewiston if you have a reservation for your boat.
Wherever you land for the evening, be sure to keep an eye out for sea cows (manatees) and LAND cows. Yup! That's right. You will see an abundance of cattle roaming along the Okeechobee Waterway. Some seem that they are trying to keep up at trawler speed, trotting precariously along the water's edge. Here's a fun fact: Florida is the second largest state for breeding cattle. And you thought we were all about the beaches, clear blue water and fishing.
If Moore Haven is your next stop, we recommend you visit Joey's Pizza and Subs. It's a good walk from the dock to stretch your legs. Then you can easily walk around to the lock to see where you will transit the next morning.
A Little Local History
Docked in Clewiston? Then you are at THE ONLY area marina for cruising size boats, Roland and Mary Ann Martin's Marina & Resort. In addition to a few onsite amenities you can easily visit their Tiki Bar and Restaurant on site. Or walk less than a mile to the Git n Split convenience store for Bar-b-Que pulled pork sandwiches and beer to go.
If you have a little more time then keep walking just about a mile or so to the Clewiston Museum for more on the local history. Click here to learn more about what you might see. The Clewiston Museum has displays on ancient animals that lived in the area, artifacts from the Airport and Training Field for British Pilots during WW II and you may even see a real live steam engine train moving around the sugar cane fields. There is more to doing the Okeechobee than just locking through.
Across the Lake to Stuart
When your weather looks good for a few hour cruise and 25 miles or so of open water travel then you can start your Lake Okeechobee crossing into Stuart FL and the Atlantic Ocean. Lake O is a very shallow lake that can whip up quickly with a strong wind from any direction. But most boats will feel the uncomfortable beam seas when it's from the north or south. So wait a day or so in Clewiston and enjoy the southern interiors of Florida.
There's some amazing things to see and do in Stuart with many more marina, mooring and anchoring options. So don't be in too much of a rush when you make the turn north to Norfolk for the Spring Rendezvous. It's just about 985 miles as the ICW turns.
Cruise through these interesting photos and maybe you can have some fun adventures too. Ask Captain Chris. 772-205-1859