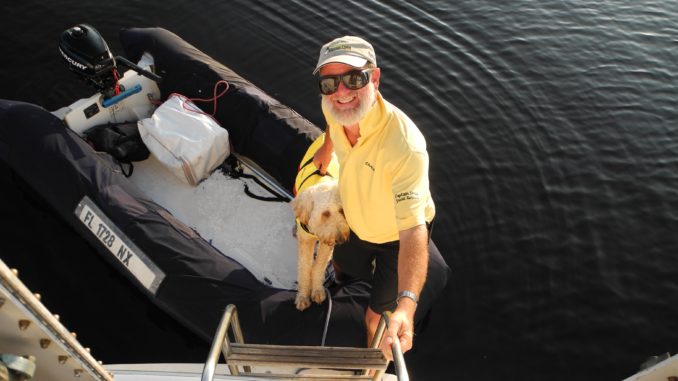 Things to Consider
Do you have a dinghy for your boat? Do you even need a dinghy since you just found the PERFECT boat for your cruising adventures? Hard to decide inflatable vs. RIB vs. rowing pram? How do you plan to use your dinghy? Store it? Launch it? Learn all this and more from Captain Chris Caldwell a seasoned cruiser who started out just like you.
One of our clients told us that she had over ten pages of notes on what to look for in her perfect boat. She attended many seminars and read every boating magazine to compile her list. After spending just 90 minutes in one of our Dinghy Dynamic seminars this new boater now had FOUR additional pages of notes to consider when finding her perfect dinghy.
Where to Store Your Dinghy
If you haven't been able to attend a seminar then here is a taste of what you can learn about your secondary form of transportation, aboard your dinghy: A Radio Show!
This is an easy link to a recorded version of the radio show. When you listen to the America's Great Loop Cruisers' Association (AGLCA) blog talk radio show these photos (above) may help you follow along and understand some of the different dinghy designs and layouts for storage aboard your boat. So, if you missed the live discussion then you can listen at your leisure and email us with your questions.
Learn More
Like to learn more? Check out our seminar calendar,  email or contact us by phone 772-205-1859 and we'll be glad to get you started Living the Dream aboard your boat!