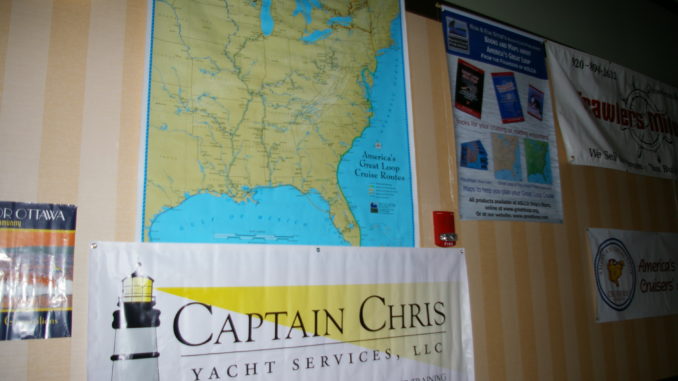 Here's notes from our BlogTalkRadio presentation with America's Great Loop Cruisers' Association. If you'd like to hear the 30 minute recorded show just click on this link.
ICW notes Please understand that hundreds of books have been written about cruising the ICW. This presentation is intended to whet your appetite for crossing the Gulf of Mexico and give you a general overview. For every crew fortunate enough to experience the jump first hand, there is a different story to tell. 
Our first note when planning to make the Big Jump is that Weather is a major factor to consider. What might work in a 58 foot stabilized trawler full of fuel and water could be disastrous in a 36 foot semi-displacement boat. Members of AGLCA refer to Eddy's Weather Wag. Consult with a variety of weather sources and pick your weather day, not your calendar day.

Second is the MM or Mile Marker system. The Intracoastal Waterway or ICW uses the YELLOW triangle and square stickers on all of the ICW channel markers. Learn what they mean and how to use them. The channel is marked with Statute Mile Markers not nautical mile markers. You might want to reprogram your GPS to read MPH on the Speed Over Ground or SOG instead of the typical knots (nautical miles per hour). This will help you plan distances to travel per day and how to approach a distant bridge opening schedule without arriving too early.

 

My third noteworthy item is your cruising schedule – throw it overboard! Schedules get more boaters in trouble, causing bad decisions to get somewhere by a certain date. Remember, you can always leave your boat somewhere and rent a car if you have to get to a scheduled event like a wedding or graduation.

 

Fourth, and certainly not the last note to consider, is to follow the latest NOAA charts. Pay attention to the notice to mariners and realize that shoaling occurs often and without warning. Some of the guide books we can recommend as supplements to paper charts are Waterway Guide, Kettlewell's ICW Mobile to Key West & Skipper Bob's Cruising the Gulf Coast.
Gotta  put in a plug for New Orleans You come out at Mobile Bay and usually make a left and head east toward Florida. BUT! Consider hanging a right toward the west and spend a short day traveling into Lake Pontchartrain and have a different kind of trip!  

Time to Jump or Jump ship  If one crew member is leery, consider taking additional crew aboard when you make the jump. We know of a few crew members who have opted to drive to the west coast in a car and meet the boat rather than cross. Certainly a choice but if you prepare well and pick your weather days rather than a calendar day then your crossing can be smooth as glass. 
Panhandle Start Points include Carrabelle, Apalachicola, St Joe Bay, Panama City or Destin. When you are ready to position yourself for the jump you can continue in the Florida protected waterway of the ICW or leap frog in the Gulf from port to port. From Mobile Bay to Apalachicola you can follow the ICW with great anchorages all along the way. In Pensacola you will find the Naval Aviation Museum for the aircraft buff waiting for a weather window. My vote is to start out at anchor in the bay at Apalachicola then head out via Government Cut when you've determined is your best time of day to start the crossing to arrive in daylight. Or you can start a bit further up the river in a marina and enjoy dinner ashore with fresh Apalachicola Oysters and ride your bike around this quaint little town.
Prepare with Spares! There's Murphy's Law to contend with so try to have everything you need to keep the engines running. You can always get food etc when you make landfall. Jack straps, body harness, tether, fuel filters, belts and anything else you can think of to keep everyone aboard smiling. If you aren't comfortable with your maintenance skills then join us soon for our seminar Introduction to Boat Systems.

Now get ready for the JUMP. Try to find a BUDDY BOAT to cruise with that is your size and speed. At 6 to 8 knots you can count on travel during the night so we recommend starting out midday with intentions of making landfall again by mid-morning. That means traveling through the night out in the Gulf of Mexico. If you draft 4 feet or more we wouldn't do it any other way. The big bend is just too shallow for our comfort. You also may wish to define what IS a buddy boat so expectations are clear before you need to rely on that new buddy. 
At planing speeds of 15 knots or more my vote is to leave safe anchorage in the early morning before first light if possible so you can get into the Gulf in daylight to "see" the sea state. This allows you to decide if you are comfortable and want to continue the crossing. If not, turn around and head back to safe harbor still in daylight. Then WAIT for better weather. Your goal is to arrive safely and in daylight. Better to travel in darkness when you are fresh and ready to go than to start out in daylight and enter a strange port when you are tired and visibility is hampered because the sun has set. 
Decide where you plan to land on the west coast of FL: Tarpon Springs, Clearwater, Tampa Bay area. Calculate your speed vs. distance and determine when you should start out to arrive in daylight. Remember, just because you have a fast boat does not guarantee that you can travel at planing speeds the entire trip. Sometimes weather and wave heights require that you slow down for comfort sake. When you think you are ready, file your float plan with a trustworthy soul on land. Keep in mind Safety First, weather, prepare with spares and most of all…have fun! Ask Captain Chris.